Dubai to launch urban planning satellite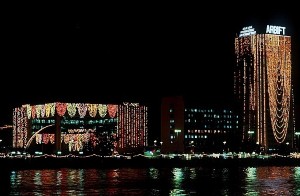 Dubai is set to release its latest satellite, DubaiSat-2, soon, which will help with urban planning projects.
Although no date has been given, a new collaboration with Russian International Space Agency Cosmodrome has been announced, which will see it launched in Russia.
According to the National, DubaiSat-2 will be able to provide high quality images at one metre resolution, which will be used in a variety of functions, such as urban planning, infrastructure and various other large scale projects which will benefit from the wider, top-down view.
It was designed and produced in South Korea as part of a skills transfer arrangement between the Emirates Institute for Advanced Science and Technology (EIAST) and Satrec Initiative, a South Korean satellite company.
This will be Dubai's second satellite, following on from DubaiSat-1 - this is used for environmental monitoring and other broader uses, rather than the added capabilities of the new model.
EIAST's director general Yousuf Al Shaibani said: 'Over the past five years, our team of engineers has developed DubaiSat-2 under the supervision of our strategic partner Satrec Initiative. This alliance offers the opportunity to leverage expertise in space technology and boost national competencies in the hope of manufacturing satellites within the homeland soon.'
In a further push to win the bid, the Expo 2020 logo will be displayed on the side of the launch rocket taking the city's latest satellite into orbit. The final result for these bids is expected on November 27th with many supporting Dubai as the best candidate. EIAST is planning to launch the satellite before this decision, meaning it could be in space within the next few weeks.
The next addition, DubaiSat-3, is planned for a 2017 launch date, with plans to have it built in a specialised factory in Dubai, although work will still be done in cooperation with Satrec Initiative. This push to bring operations into the area will help the emirate's prospering science industry and emerging space capabilities.