Dubai to introduce disabled-friendly parks by 2016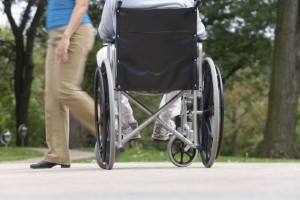 Dubai is planning an overhaul of its parks in a bid to make them more accessible to people with disabilities, it has been announced.
All major parks in Dubai are going to be restructured as part of the project, official news agency WAM reports.
Work on the project is scheduled to begin in October, and will take two years to finish.
The first parks to be targeted are Al Mamzar Beach Park and Jumeirah Beach Park, according to the report.
The long-term vision for the project includes installing equipment for children with special needs in parks. Toilet facilities and parking spaces for disabled drivers will also be provided.
Director-general of Dubai Municipality Hussain Nasser Lootah, commented: "The project will cover all major public and residential parks and the move is aimed at giving disabled children a place to play and help them mingle with society in all fields of life.
"Disabled people will be given free access to all major parks, and wheelchairs will be available for them to use."
This is the latest project working towards Dubai government's aim to be one of the most friendly cities in the world for individuals with special needs. It is hoped this goal will be achieved by 2020.
He added: "Dubai Municipality has paid great attention to special needs by setting requirements for the city's buildings and public facilities, including parks, streets and markets, as well as by holding activities that aim to reach out to and enable the integration of people with special needs."
The 'My Community - A City for Everyone' initiative was launched by Sheikh Hamdan bin Mohammed bin Rashid Al Maktoum, crown prince of Dubai and chairman of Dubai Executive Council.
This move is likely to attract a broader range of tourists to Dubai, with disabled people able to jet off to the emirate confident of good access wherever they go, meaning they will be able to enjoy the city to the full.