Dubai to host 'ultimate New Year's Eve party'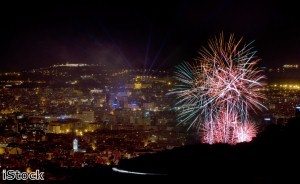 Dubai has announced the launch of its first ever New Year's Eve party and it will be a disco extravaganza.
The Jacksons are set to headline what is sure to be a huge concert dedicated to the music of the 70s and 80s. The concert, which will be around eight hours long, will be held in the Dubai Media City Amphitheater.
Other acts on the bill for MasterJam NYE include Chaka Khan, Chic and Nile Rodgers, Gloria Gaynor, Jocelyn Brown, Kathy Sledge and Incognito.
These musical legends will perform their greatest and best-loved hits during the evening, which is sure to act as a trip down memory lane for the audience and artists alike. Gloria Gaynor performed in Dubai in 1980, a year after releasing her mega-hit I Will Survive.
Some of the acts set to perform will be heading back to Dubai after a short sojourn, as many attended the 2013 Sandance Festival, such as Chic and Nile Rodgers. During their set they'll be able to bring disco to Dubai with their super-hits Everybody Dance and Le Freak.
Fans of Motown won't be disappointed either, as they'll get the chance to see The Jacksons, as Jermaine, Jackie, Tito and Marlon take to the stage to play their classics, including I Want You Back and ABC. There will also be a heart-warming tribute to the late, great Michael Jackson.
Amy Wilkinson-Lough, managing director of Louder Entertainment, organisers of the event, said, 'We wanted to give Dubai something big, something that catered to a crowd that loves disco but has largely been ignored up until now. What we have here is a line-up of the music world's living legends, something that the world has never seen before.'
Tickets start from AED295 (£51.34) and go on sale on November 20th at 10:00 GST. Those looking for an extra-special night can pay for packages that include private grandstands, complete with complimentary drinks and a built-in dancefloor.
The concert should boost occupancy rates over the festive period even further, with some hotels already reporting increased interest. A spokesperson for the Jumeirah Group told The National: "There is limited availability for rooms for New Year's Eve. Rooms and suites get booked exceptionally quickly, particularly within the first half of the year, with many guests booking a year in advance."