Dubai to 'host another fashion week'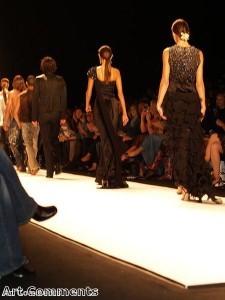 Due to the success of the Vogue Fashion Dubai Experience in October, the emirate is set to host another industry event next year.
Frank Cintamani, the founder of FIDe Fashion Week and the Asian Couture Federation (ACF), says his organisation is looking at bringing an event dedicated to the designers of couture to Dubai in 2015.
He said that the ACF has been exploring the emirate as an option for the last ten months with government agencies and ministries, but the success of last month's event and response from the fashion industry was the tipping point.
The ACF has also announced the formation of the Middle East and North Couture Council (MCC), which will be responsible for recognising and supporting talented designers across the region.
FIDe Fashion Week organises events, including a week dedicated to couture, and has been recognised by the La Chambre Syndicale de la Haute Couture, which is a renowned French body that governs the industry.
The organisation held the first couture week outside of Paris in 2011 and the Dubai event will be an extension of the FIDe Fashion Week's world tour. Mr Cintamani commented: 'Dubai presents itself as a very ideal market for haute couture designers. The Middle East has always been a good source for designers and Dubai seems to be the place where all these things congregate.'
Dubai is becoming increasingly recognised as a major player in the fashion industry, with organisations lining up to host events in the emirate. Franca Sozzani, the editor of Vogue Italia, believes it has been successful in changing the world's perception of it as merely a hub for business.
Over 20 established designers took part in the Vogue Fashion Dubai Experience, which ran from October 30th to November 1st, as well as eight individuals who are hoping to be successful in the industry.
Robert Booth, a member of Dubai Design and Fashion Council, commented: "Fashion is a $275 billion (£171.9 billion) industry for centres like New York, London, Paris, etc and now Dubai has also entered this league.'
The interest from the fashion industry is testament to Dubai's versatility, with it being a world-class location for business and well as a greatly-desired location for different kinds of tourism.