Dubai to create world's biggest airport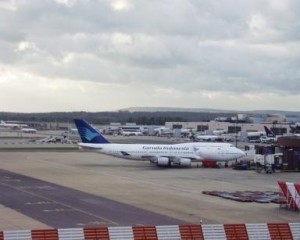 Dubai is set to invest $32 billion (£19.8 billion) into Al-Maktoum International in order to make it the world's largest airport, according to the operator of the global hub.
The enormous building project will boost the capacity of the airport - currently the emirate's second biggest - allowing it to handle more than 200 million passengers per year upon completion. This will help the Department of Tourism and Commerce Marketing (DTCM) achieve its target of attracting 20 million visitors to Dubai per year by 2020.
Al-Maktoum International operators say the first phase of the expansion will create enough runway space to handle 120 million passengers every year and will mean the airport can accommodate 100 Airbus A380 double-decker jets at all times.
Once the first phase is completed, the global hub will be able to handle more passengers than the world's current busiest airport - Hartsfield-Jackson Atlanta International Airport - which accommodated 94.4 million people during 2013.
The initial stage will involve adding two new runways to the current building and constructing two large concourses that will each be able to house dozens of aircraft gates. Paul Griffiths, chief executive of airport operator Dubai Airports, said the first phase of the project should be completed within the next six to eight years.
'It's a very aggressive time scale ... but I think that we have a track record here of doing remarkable things in a remarkably challenging time frame,' he said.
When the project is completed, Al-Maktoum International will be home to five parallel runways which will operate at the same time and there will be hundreds of gates that will be able to accommodate wide-body planes.
Mr Griffiths added: 'The aviation sector has demonstrated that there is a very compelling economic case to suggest creation of further capacity is a very sensible thing to do."
Al-Maktoum International's sister airport Dubai International Airport is the world's seventh busiest airport, handling 66.4 million passengers last year. The hub is also undergoing an expansion, with a new concourse due to open in 2015.
By increasing the capacity of its airports, Dubai is opening its doors to millions of additional passengers - something that is likely to have a positive effect on the hotel and hospitality industries.