Dubai to construct 'Aladdin City'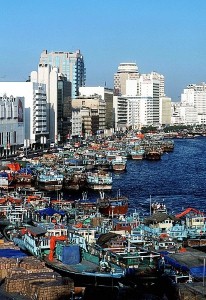 Dubai is planning to construct 'the city of Aladdin' along Dubai Creek.
The project will involve building three towers, inspired by tales of heroes such as Sinbad. The emirate's municipality government announced the initiative would consist of three towers spread over a distance of 450 metres.
Officials stated the scheme would have a significant cultural and historical impact on the local area and claimed it would be a source of pride for generations to come. It is also hoped the project will greatly contribute towards Dubai's tourism industry.
The city will comprise commercial and hotel space, with moving floors to connect the three towers. The style of the bridge linking the structures is designed to represent the form of exotic marine life such as dragons or snakes.
One of the buildings is planned to be 34 storeys high, while the others will contain 26 and 25 floors respectively. They will be accompanied by enough parking space to accommodate 900 cars. As of yet, the government has not indicated how much the project will cost.
Hussain Nasser Lootah, director general of Dubai Municipality, commented: 'The symbolic content of the architectural form of the project buildings is inspired by the ancient legends and heritage that includes tales of buildings and palaces with oddly-shaped domes, or which are suspended in the air and clouds.'
The total area of the city is expected to be around 110,000 sq m, including 10,000 sq m bridges to enable traffic movement. There will 66,000 sq m of space that can be rented, which will be developed in each of the three towers. In addition, the parking lots are designed to be built around the sides of the harbour areas.
Dubai's authorities are hoping the creek area will be listed as a UNESCO World Heritage Site. Mr Lootah was keen to point out the scheme will not affect these plans, as the buildings will be constructed outside of the proposed protection zone. Furthermore, it will be designed to minimise any threat to natural resources and biodiversity.