Dubai to 'boost tourist facilities at harbours'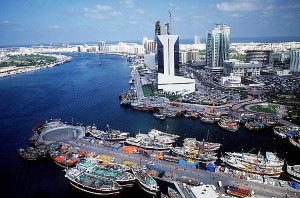 Dubai's customs service has collaborated with the Department of Tourism and Commerce Marketing (DTCM) in an effort to boost the available tourist facilities at the emirates' harbours, according to a joint announcement.
The statement noted that partnership is in line with Dubai's vision to make the emirate the destination of choice for holidaymakers that are looking for a trip that offers relaxation and amusement in a safe environment.
Under the terms of the agreement, the customs service and the DTCM will promote the development of new tourist facilities at Jumeirah 1, Umm Suqeim 1 and Umm Suqeim 2 harbours.
Ahmed Mahboob Musabih, director of Dubai Customs, and Helal Saeed Almarri, director-general of DTCM both signed the deal in the presence of Sultan Ahmed bin Sulayem, chairman of DP World and chairman of Ports, Customs and Free Zone Corporation.
Mr bin Sulayem believes the Fishermen Harbours will only add to the emirate's already impressive portfolio of tourist attractions, such as the plethora of theme parks and festivals currently on offer to visitors.
Dubai has invested enormous amounts of money into renovation projects for the harbours and schemes to incorporate the exceptional facilities available, including boatyards for fishing boats and for yachts, with others dotted around the emirate.
"Blocking security gaps in the project, ensuring the complete safety and security of the facilities was at the top of our priorities as Dubai Customs enjoys a long experience in securing customs land, sea and air ports." Mr bin Sulayem added.
The sultan described the tourist experience of Dubai as a "warm welcome and comfortable stay", allowing visitors to explore the emirate without any security hassles or compromises on safety.
Mr Almarri concluded: "The DTCM will provide all facilitations necessary to implement this agreement, including research-based suggestions and recommendations such as feasibility studies aimed at leveraging the tourist and economic promotion of the three harbours."