Dubai 'to become top destination for wedding tourism'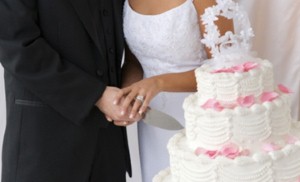 Dubai could soon add world's top wedding destination to its list of accolades, as couples flock to the emirate to get married against a background of beautiful beaches and a spectacular skyline, according to an industry insider.
The burgeoning number of tourists heading to Dubai to wed is having a positive effect on sales in local jewellery stores and bookings for bridal suites in hotels across the emirate. Many companies are looking to take advantage of this by advertising their services to couples wishing to marry.
Proposal Boutique is just one of those firms. Caroline Garvey launched her business to assist couples in planning their weddings and even offers a service specifically for men looking for a unique way to ask their loved one the big question.
Malin and David Aspehult, clients of Ms Garvey, told The National: "Dubai is a fantastic wedding destination and I would strongly recommend it."
Helen Shippey, a wedding photographer, explained to the website that ceremonies in the emirate are keeping her busy, adding that the number of couples enlisting her services for Dubai-based weddings have increased significantly over the last three years. She said that the picturesque beaches have proved to be the most popular locations.
"Souk Madinat Jumeriah is also a place many choose to take photos at since they then get a lovely Arabic feel in their wedding photographs to symbolise where they actually got married," Ms Shippey added.
The rise in the number of couples heading to Dubai to wed is testament to the unique versatility the emirate can offer. In addition to a top destination for weddings, the region is also rapidly becoming a hub for medical tourism.
Official figures from Dubai Healthcare City (DHC) indicate that travellers are heading to the emirate to take advantage of the world-class medical facilities and procedures, with fertility treatments proving to be the most popular.
More than 11 million people travel overseas every year seeking medical treatment. Overall, the industry is said to be worth $30 billion (£17.9 billion) globally, according to the report 'Medical Tourism: An Evolving Market That's Ripe For Growth And Opportunity'.