Dubai to be new home-port for cruise ship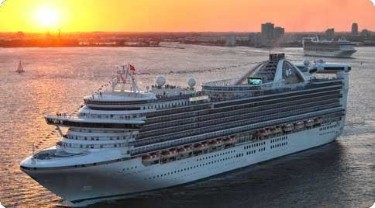 Dubai's growing cruise tourism industry is set to be boosted even further as it has been named as the home port for the Thomson Celebration for winter 2016/17.
Earlier this year, Major General Mohammed Ahmed Al Marri, director-general of the General Directorate of Residency and Foreigners Affairs in Dubai (GDRFA), explained that the growth has been steady, with ports accepting more than 500,000 cruise tourists in 2014. This is expected to rise to more than 600,000 this year, as Dubai welcomes more ships than ever before.
"Cruise tourists number were only 10,000 in Dubai in 1998, and it is more than half a million now, and it is expected to further increase during the tourist season in Dubai which begins in October and ends in July of each year," the Maj Gen explained.
The decision to make Dubai the home port for the Thomson Celebration will see the number of cruise tourists heading to the emirate rise.
There will be two seven-night itineraries, including an 'Arabian Nights' themed cruise that will stop at Khasab (Oman), Muscat, Doha (Qatar) and Abu Dhabi, and a 'Cities of Gold' trip that will call at Khor Fakkan (UAE), Muscat, Manama (Bahrain), and Abu Dhabi.
Both of these itineraries will involve an overnight stay in Dubai, offering tourists the opportunity to go ashore and see what the emirate has to offer.  
There will be a host of excursions for passengers, including a trip to the Burj al Arab and Burj Khalifa and the chance to dine on a Dubai Dhow cruise.
Helen Caron, managing director of Thomson Cruises, said: "We know that destinations are one of the key deciding factors for our customers and our decision to set sail from Dubai will allow holidaymakers to see and experience more destinations than ever before."
She added that as the region becomes more popular for winter sun cruises and unique excursions, Thomson knows that its customers will be thrilled to see Dubai added to its programme.
The new itineraries are set to go on sale in November, with the first departure slated for December 2016.