Dubai to be first Arab city available on Google Street View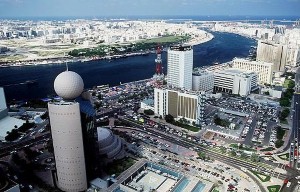 Dubai is set to be the first city in the Middle East to become available on Google's Street View.
The move is seen to be yet another example of the forward-thinking nature of the emirate, which is constantly striving to be hot on the heels of technological advancement. The search company's cars had been spotted roaming the streets over the past few months, with the data expecting to go live in the coming weeks.
Google advised it was keen to make progress with its Street View project in the Middle East, as it showcased the wide variety of culture located in the region and would show people what was happening in the area. It also gives local businesses the opportunity to grow as they would become exposed to a wider, global audience.
Images of Dubai first appeared on the Street View application in June, when the search company added the Burj Khalifa to its databases. This was accompanied by an inside-view of an Emirates A380, as part of its Special Collect Programme. The Sheikh Zayed mosque in Abu Dhabi was also added back in December.
The reasoning behind including the emirate in the application is evident. UAE ranks as one of the top countries in the region for internet penetration, boasting 6 million active users out of its total population of 9.2 million. Google also stated it intended to increase the level of Arabic content online.
Peter Baron, director of communications and public affairs for Europe, Middle East and Africa, commented: 'The take-up of mobile and services like YouTube is incredibly high, you see some of the highest in the world in this region. But the level of Arabic contend at the moment doesn't match that, so we're working with the government and with other partners to boost and encourage that.'
Mr Baron was in Dubai to take part in the two-day government summit. He praised the emirate's forward-thinking nature and singled out its Smart-City initiative for increasing the provision of public services of smart devices.
Following the Dubai rollout, Google plans to extend the service throughout the rest of the UAE and is thought to be having discussions with representatives from Abu Dhabi and Ajma.