DUBAI: THE WORLD'S MOST EXCITING RETAIL DESTINATION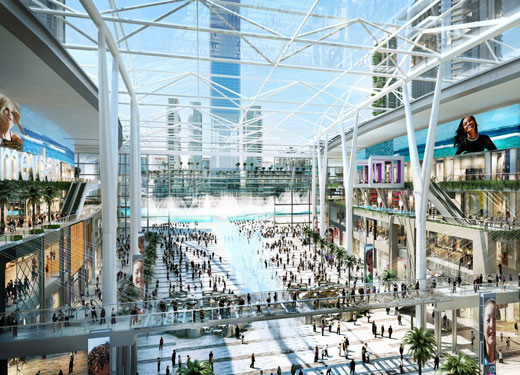 Dubai's latest collection of megamalls will showcase the future of experiential shopping
Dubai's reputation as one of the world's most popular shopping destinations is set to be enhanced by the addition of new malls that combine experiential, personalised services with cutting-edge technologies to create immersive retail environments unlike any other on the planet.
This week, Emaar Properties and Dubai Holding announced the launch of Dubai Square, a new $2.7 billion retail precinct that will be located in the heart of Dubai Creek Harbour, the new megadevelopment that will also house Dubai's new tallest building, Dubai Creek Tower.
Dubai Square will cover an area of 2.6 million square metres and will introduce the concept of 'omnichannel retailing' to Dubai's retail sector. The concept refers to the integration of consumer technologies in the retail experience. Among a vast range of services on offer, shoppers will be able to use their mobile handsets to make purchases, track orders, navigate their way around the mall and interact virtually with retailers and store owners.
Emaar and Dubai Holding promise the centre will provide shoppers with a "technologically immersive" experience unlike anything else available on the planet.
Commenting on the launch of the project, H.E. Abdulla Al Habbai, chairman of Dubai Holding, said: "Dubai is experiencing tremendous tourist inflows and continues to rank highly as a holiday destination for people from many different parts of the world.
"Dubai Square is our new retail and leisure destination, and with this we aim to actually redefine the shopping experience by introducing a variety of innovative concepts. This is our latest endeavour to bring the best to Dubai, as part of Dubai Holding's promise, 'for the good of tomorrow'."
Dubai Square will be almost twice the size of Dubai Mall in terms of gross leasable space. The precinct will incorporate retail, hospitality and residential communities, as well as various entertainment facilities, including a spectacular live arena boasting 3D projection capabilities.
The precinct's launch follows the release of new data that ranks Dubai as the world's top market by international retailer presence, with more global retail brands available in the city than any other worldwide.
Real estate analyst CBRE assessed 334 international brands and found that 62% of this number had a presence in Dubai, with 59 new brands debuting in the market in 2017 alone.
According to CBRE, around 1.5 million square metres of additional retail space will join Dubai's current supply of 3.1 million square metres by the end of 2020, making the city one of the world's premier retailing hubs both in terms of size and brand concentration.
The addition of this capacity is expected to help drive retail sales to $43.8 billion by 2021, according to government estimates.
While attractions such as Mall of the Emirates' 400-metre-long indoor ski slope and Dubai Mall's dancing fountains put Dubai on the map as one of the world's most exciting retail-entertainment destinations in the 2000s, the next wave of malls being built in the city will take the concept of experiential retailing to unprecedented heights.
In addition to Dubai Square, other landmark retail projects under development include the $1.15 billion Deira Mall, which will located on the new Deira Islands development and will house a range of attractions including a high-tech entertainment zone and a 1km-long retractable glass atrium, and Meydan One Mall, whose highlights include 620 retail outlets, a 1km-long ski slope, a 26,000 square metre indoor sports zone that will offer a range of watersports, and Dubai's largest dancing fountain, which will propel water jets to a height of 360 metres. Meydan One Mall's indoor ski centre will also be collocated with Alpine-style hotels and villas, providing guests with direct access to the slope.