Dubai, the global shopping hub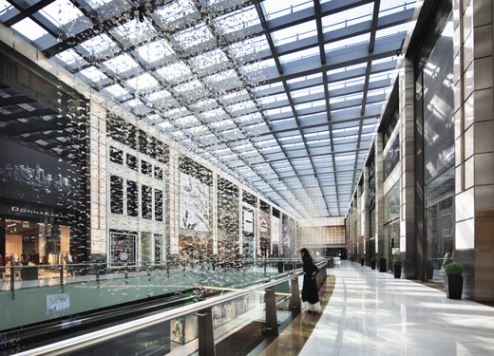 The city has been named the fourth most attractive retail market in the world. Here's why
Dubai has been named the fourth most attractive retail market in the world by Jones Lang LaSalle.
Only London, Hong Kong and Paris, which took first, second and third place respectively, had a stronger presence of international retailers, according to JLL's Destination Retail 2016 report.
New York, traditionally considered one of the world's leading retail destinations, was ranked behind Dubai in 5th place.
Other Middle East cities in the top 10 included Kuwait at number nine, while Abu Dhabi took 11th slot.
"The globalisation of the retail market has resulted in a significant shift in its landscape in recent years; major global cities remain the epitome of resilience, while Asia Pacific's and the Middle East's major cities have seen the biggest influx of international retailers," says JLL.
A breakdown of Dubai's share of international retailers by category reveals the luxury market takes the biggest slice at 35 percent, followed by mainstream retailers at 33 percent and premium retailers at 32 percent.
JLL categorises Dubai as a 'Growth Retail City' in the report and is one of the nine top 20 retail cities given this classification.
Other Growth Retail Cities in the top 20 are Kuwait, Jeddah, Riyadh and Abu Dhabi in the Middle East; Shanghai, Beijing and Bangkok in Asia; and Moscow in Europe.
Non-top 20 cities in this category include Delhi, Mumbai, Mexico City and Sao Paulo.
What they all have in common, says the report, is rapidly expanding populations, a rise in the middle classes, plus a fast rate of urbanisation.
The result is a surge in retail spending, which in turn, has led to a high number of new shopping malls being developed.
In Dubai, "large quantities of affordable retail space enabled international retailers, supported by franchise operators, to open up stores and tap into a highly attractive market of wealthy locals, tourists and expatriates," says JLL. "Shopping centres dominate the market."
And they will continue to do so, with one of the region's biggest developers, Majid Al Futtaim (MAF), recently revealing plans to pump a further AED30 billion (US$8.2 billion) into major retail, entertainment and hospitality projects in the run up to World Expo 2020.
The mega cash injection will see the construction of 10 new City Centre malls, six hotels, 28 cinemas, 40 Carrefour supermarkets and a 740,000-square-metre master-planned community
MAF has also just completed the US$1 billion extension to the iconic Mall of the Emirates, which has seen the Middle East debut of a number of new retail brands.
They include AllSaints, Lululemon Athletica and Abercrombie and Fitch.
In the not-too-distant future, a new mega mall will be built at the $10 billion Mohammed Bin Rashid City (MBR City), scheduled for completion in 2022, while the Mall of the World, part of the first ever temperature-controlled city, located on Sheikh Zayed Road, will stake its claim as the world's largest shopping mall. The $6.8 billion project will also boast the world's largest theme park, a covered street-shopping concept and more than 100 hotels.
At Meydan One, also under construction, a mall with a retractable roof is planned, alongside a 711-metre-high tower, an indoor ski slope, the biggest dancing fountains in the world, and a 100-berth marina.
All of these developments not only consolidate Dubai's position as the leading retail destination in the Middle East, but could push the city higher up the JLL retail rankings in the future.
As the emirate looks to further develop its status as a global hub for business and tourism, with a view to attracting more than 20 million visitors by 2020, the anticipated retail sales growth trajectory is an attractive prospect for international retailers.
If you also consider the strong growth in Chinese visitors to Dubai (up 29 percent in 2015 versus 2014), the market is even more tempting for retail brands, particularly those specialising in luxury and designer goods. Chinese consumers now account for the largest proportion of global luxury purchases (31 percent) according to Bain & Company.
"They are very active globally, spending around four times as much abroad as at home," the JLL reports stresses.
JLL predicts that in the future, the global retail landscape will change dramatically and Dubai, along with Hong Kong, Paris and New York, will vie for international retailer presence with a view to taking London's top slot.