Dubai 'starts work on Route 2020 project'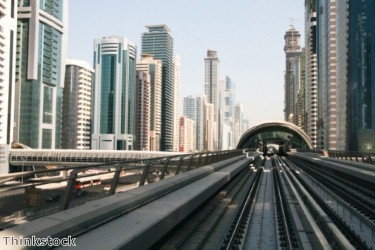 Work has started on the Dubai Route 2020 project, according to the Roads and Transport Authority (RTA).
The scheme will extend the emirate's driverless metro system from Nakheel Harbour and Tower Station to the site of the World Expo 2020. 
Adding 15 kilometres to the existing service, the extension includes seven new stations, with five of these being above ground and two being under. There are also plans in place for three new stations to serve Al Maktoum International Airport, which will be the world's largest global hub once construction is complete.
At a recent conference hosted by the RTA, Mattar Al Tayer, chairman of the board and executive director of the organisation, said the Route 2020 project will help to meet a goal to provide mass transit systems that are made up of buses, trams, metros and water-based services. 
He said: "Construction work on Route 2020 will start once the contract is awarded in the first quarter of 2016. The project will be a vital link between various areas of Dubai and Al Maktoum International Airport in the future."
Once complete, the extension is expected to serve districts with an average-to-high population density, such as The Gardens, Discovery Gardens, Furjan, Jumeirah Golf Estate and Dubai Investment Park.
"These communities are inhabited by about 240,000 persons, and their journey from the Dubai Marina to the site of Expo will take 16 minutes," explained Mr Al Tayer.
He added that the project will be tendered as a design-built contract, with the bidding to begin from May 31st and a shortlist to be created on June 30th. The winning organisation will be announced on January 28th 2016.