Dubai skies awash with giant balloons as city hosts new festival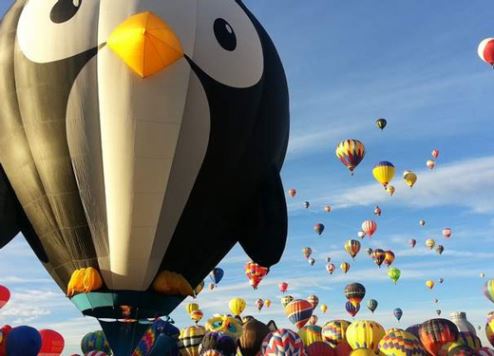 The skies of Dubai were awash with giant colourful balloons last week as the city's most established outdoor entertainment park, Global Village, celebrated its 20th birthday.
The village played host to the Dubai International Balloon Fiesta 2015 from November 26 to 28, and balloons in every shape, colour and size imaginable adorned a skyline known normally for its iconic buildings and skyscrapers.
The event emulated the balloon festivals already popular in regions such as the Europe and the US and not only featured decorative balloon flying but gave visitors the opportunity to experience a tethered balloon ride.
"As we celebrate our 20th anniversary, we are happy to support the first Dubai International Balloon Fiesta," said Global Village CEO Ahmad Hussain bin Essa.
"We believe in bringing to Dubai creative and innovative events that will delight our visitors and further strengthen Global Village as the must-visit family destination this season."
Sonal Rawaln, spokesperson for the event's organising company, Classic Concepts Events Management, said the balloon fiesta would position Dubai on the "global map of balloon adventures on an unmatched scale".
"We are thankful to Global Village for their support that will further contribute to Dubai's booming tourism sector as visitors witness this mesmerising spectacle," she said.
"We are working with international professionals in making this event truly a trendsetter for the region. The fiesta also serves as a dynamic marketing platform for brands to be seen and spotted, and we are delighted by the positive response from the business community to our initiative."
More than 30 balloons were showcased at the fiesta.