Dubai signs historic aviation deal for Al Maktoum International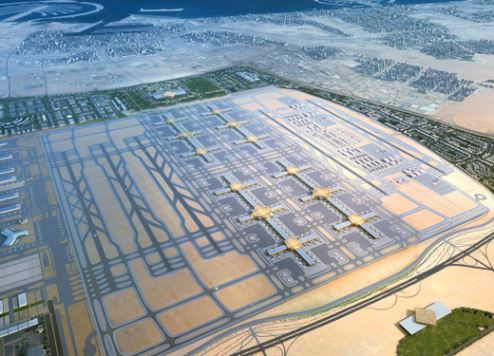 The Dubai Government has signed a historic deal for the first phase of construction at its new mega aviation hub, Al Maktoum International Airport – Dubai World Central (DWC).
Sheikh Ahmed Bin Saeed Al Maktoum, president, Dubai Civil Aviation Authority, chairman and chief executive, Emirates Airline and Group, and chairman, Dubai Aviation City Corporation, signed an agreement with Al Jaber LEGT Engineering and Contracting, which will see DWC expanded to reach a capacity of 26.5 million by 2025.
Under deal terms, the first phase of the project will see the built up area of the passenger terminal increase from the existing 66,107 square metres to 145,926 square metres, and will be completed by June 2017.
In a statement Sheikh Ahmed said the agreement marked a "historic milestone in the journey of Al Maktoum International, which is set to become the world's largest airport".
"We are poised to significantly boost Dubai's economy by creating a world-class facility capable of handling the growing number of passengers visiting and transiting our city," he added.
DWC will ultimately have the capacity to handle more than 220 million passengers per year.
"Al Maktoum International is being designed to become an airport of the future," said Sheikh Ahmed.
"We are building a range of amenities and facilities that will increase capacity and significantly enrich the airport experience, making it an attractive proposition for airlines as well as passengers."
Proposed expansion work of the passenger terminal will cover the arrivals hall, the baggage claim area and related services, as well as the baggage handling system. The arrivals building will feature a new immigration hall for 55 control counters, visa and passenger utilities.
Areas of the departures building set for expansion include the public hall, commercial areas and offices, as well as the check-in hall, which will house 64 check-in counters. An additional 10 counters will be dedicated to business-class check-ins.