Dubai shares reach 5-and-a-half-year high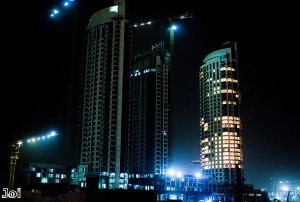 Dubai's stock exchange reached levels not seen for five years on Monday (March 24th).
It closed at 4,318.46 at the end of trading, a result last witnessed in September 2008. This represented the seventh straight session the index has closed on a high.
Emirates 24/7 reports the Dubai Financial Market (DFM) General Index has now grown by 168.66 per cent over the last 15 months, increasing from its position of 1,622.53 achieved on December 31st 2012. In addition, the stock exchange has jumped more than 30 per cent during the first three months of this year.
According to analysts, real estate and construction stocks are at the forefront of this upsurge. This is because investor confidence is said to have at last increased to levels witnessed before the global financial crisis.
Other markets in the Middle East region were experiencing positive results during the first three months of 2014. Abu Dhabi's stock exchange rose by 11 per cent, while the Saudi Tadawul is up ten per cent. Bahrain's share market, the Qatari bourse and the Muscat Securities Market have also reported growth, increasing by 12, eight and one per cent respectively.
In contrast, major global markets have not been faring as well. The Dow Jones in the US has risen just 0.5 per cent so far this year, with the Nasdaq increasing by 4.2 per cent. Meanwhile, the UK's FTSE 100 index is down by 0.75 per cent.
A total of 12 companies listed on the DFM more than doubled their value over the last 12 months. These included Al Salam Bank-Bahrain and Dubai Islamic Bank, which achieved growth of 186.93 and 166.67 per cent respectively. The DFM itself increased by 142.16 per cent.
Last year, the global index compiler MSCI elevated the UAE and Qatar to emerging market status last year, with the new classification set to take effect in May. This is expected to boost foreign investment to the DFM, ensuring the region continues to enjoy its economic prosperity.