Dubai sets new tourism benchmark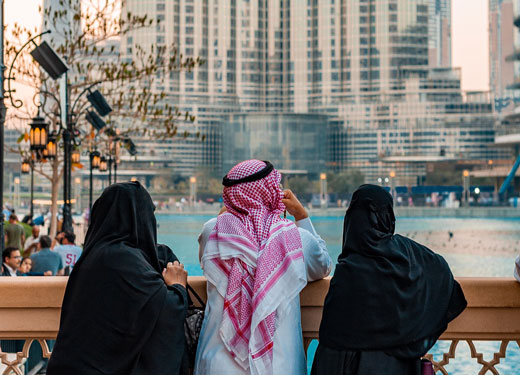 Dubai has set another record for tourism arrivals, with 15.92 international overnight guests visiting the city in 2018
Dubai welcomed 15.92 million international overnight visitors in 2018, eclipsing the previous best result of 15.8 million set in 2017.
The data, published by Dubai's Department of Tourism & Commerce Marketing (Dubai Tourism), puts the emirate on track to meet the goals set out in its Tourism Vision 2022-2025, including increasing the sector's economic impact on GDP.
Commenting on the results, His Excellency Helal Saeed Almarri, Director General, Dubai Tourism said: "Guided by the vision of His Highness Sheikh Mohammed Bin Rashid Al Maktoum, Vice President and Prime Minister of the UAE and Ruler of Dubai, the Department remains focused on ensuring that Dubai becomes the number one most visited city in the world in line with Dubai's Tourism Strategy 2022-25."
India retained its position as Dubai's top tourism source market, with more than 2 million arrivals recorded during the year. According to Dubai Tourism, the result was "fuelled by strong business partnerships… and tailored destination-focused campaigns, such as multi-award-winning #BeMyGuest, a collaboration with Bollywood superstar Shah Rukh Khan, as well as highly targeted seasonal activations to resonate with a diverse range of Indian audiences".
Saudi Arabia was the second most-important source market, with 1.6. million visitors, marking a rise of 3% compared to 2017, while the UK ranked third, with 1.2 million British travellers visiting the city in 2018.
In terms of Dubai's fastest-growing source markets, Nigeria ranked first, reporting a year-on-year increase of 36% which brought total arrivals to 185,000.
France ranked second with 348,000 arrivals, marking a 17% year-on-year increase.
Russia ranked third with 678,000 visitors in 2018, marking a year-on-year rise of 28% and catapulting the country to sixth overall among all source markets. China ranked fourth in terms of fastest-growing source markets and fourth overall, with tourism volumes rising 12% year-on-year to reach 857,000. According to Dubai Tourism, China and Russia arrivals continued to benefit from the introduction of UAE visa-on-arrival visitor regulations and increased air capacity into the emirate.
Tourism arrivals from Germany also rose 12% year-on-year to reach 567,000, while the United States ranked seventh overall in terms of source markets, with 656,000 visitors, marking a rise of four percent year on year.
From a regional perspective, Western Europe contributed the largest number of visitors, accounting for 21% of the total figure of 15.92 million. The GCC ranked second accounting for 18%, followed by South Asia, with 17%. Rounding out the top five were North Asia and South-East Asia, which accounted for 11 per cent apiece.
According to Almarri, Dubai remains perfectly positioned to deliver on the expectations set out in the city's Tourism strategy, working in conjunction with private and public stakeholders.
"As we work towards future-proofing Dubai's tourism-linked economy by fostering exceptional visitor experiences, we are committed to further empowering our public and private sectors to develop strategic programmes that can truly adapt to dynamic traveller needs," he said. "An integral component of the city's success, therefore, has been the ongoing commitment to collaborate across the entirety of Dubai's tourism ecosystem and foster robust partnerships with government and private stakeholders, including supporting the homegrown entrepreneur ecosystem.
"We are committed to providing the necessary infrastructure and global distribution channels to all our partners, equipping both large and small industry players with the outreach and access to our global networks. This is crucial as we continue to work towards our shared goals to support the city's priority agenda to always offer something new and world-class in a highly democratised world of global travel." 
TOP 5 TOURISM SOURCE MARKETS 2018
India

                         

    

2 million
Saudi Arabia

           

     

6 million
United Kingdom

           

2 million
China

                            

857,000
Oman

                            

N/A

     
TOP 5 FASTEST-GROWING TOURISM SOURCE MARKETS 2018
Nigeria

        

+36% YoY (185,000 visitors)
Russia

        

+28% (678,000)
France

        

+17% (348,000)
China

          

+12% (857,000)
Germany

     

+12% (567,000)