Dubai sets new record for tourist arrivals in 2019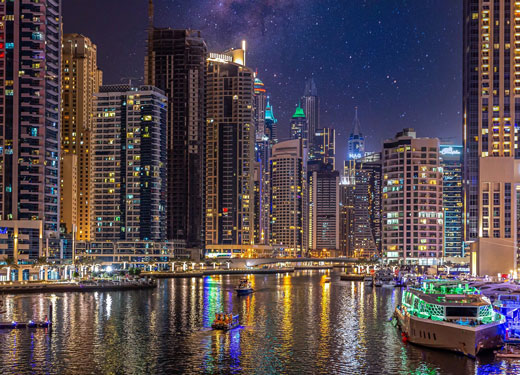 Dubai set a new annual benchmark in terms of international visitor numbers in 2019, with
16.73 million tourists visiting the city, marking a 5.1% increase compared to 2018.
The result exceeded the United Nations World Tourism Organisation's (UNWTO) preliminary forecast for tourism arrivals to Dubai by more than 1%.
Dubai's traditionally dominant source markets – India, Saudi Arabia, the United Kingdom, Oman, China and Russia – together accounted for more than seven million visitors in 2019, while nine of the emirate's top 10 source markets exceeded half a million visitors respectively for the first time.
India retained its ranking as the emirate's top source market with almost two million arrivals, followed by Saudi Arabia with 1.6 million visitors.
The UK ranked third with 1.2 million visitors, followed by Oman with almost one million visitors, representing a year-on-year (YoY) rise of 24.3%.
Fifth-placed China delivered 989,000 visitors to Dubai in 2019, marking a 15.5% year-on-year increase and more than doubling the 450,000 visitors it accounted for just four years ago.
Russia claimed sixth spot with 728,000 visitors (+7.4% YoY), followed by the US (667,000; +2% YoY), Germany (560,000), Pakistan (501,000) and the Philippines (477,000).
Regionally, Western Europe continued to dominate, accounting for 20% of all arrivals (3.4 million). The GCC ranked second with just over 3 million visitors, followed by South Asia (2.7 million).
Commenting on the results, HE Helal Saeed Almarri, Director General of Dubai Tourism, said: "The strong performances across our diversified spectrum of traditional strongholds and fast-growing high value segments have continued to solidify the global competitiveness and sustained resilience of Dubai's tourism sector.
"This past decade, and 2019 in particular, have delivered unmatched acceleration in Dubai's stature as a 'Destination of Choice' for global travellers assuring advancement towards the vision of His Highness Sheikh Mohammed bin Rashid Al Maktoum, Vice-President and Prime Minister of the UAE and Ruler of Dubai to make it the number one most visited, preferred and revisited global city.
"While the global economy remains in a state of flux, we can clearly see an exciting opportunity to further grow Dubai's dominance in the tourism industry in 2020, and to pioneer the next decade for global travel, offering unique and transformative tourism experiences created and driven by our strong appetite for radical innovation and stakeholder collaboration."
Dubai is forecast to attract 20 million visitors in 2020, thanks largely to the anticipated influx of international arrivals for Expo 2020 Dubai, which opens in October.
DUBAI TOP 10 TOURISM SOURCE MARKETS 2019
Ranking                         Arrivals                        YoY % change
India                     1,970,000

                   

         

- 3
Saudi Arabia

          

1,565,000

                              

0
UK

                        

1,200,000

                            

- 1
Oman

                    

1,030,000

                           

+ 24
China

                       

989,000

                           

+ 15
Russia

                     

728,000

                           

+  7
USA

                         

667,000

                            

+  2
Germany

                  

560,000

                             

-  1
Pakistan

                   

501,000

                             

-  2
Philippines

                

477,000

                            

+ 23