Dubai sets goal to be 'world's most-visited city' by 2025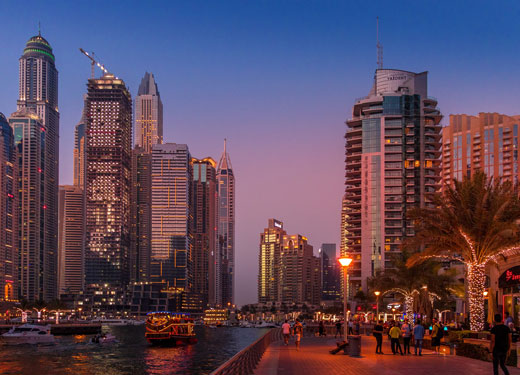 The emirate has revealed its ambitious plan to become the world's most popular travel destination by the middle of the next decade
Dubai has revealed its tourism targets post-2020, declaring its ambition to be the world's most-visited city by 2025.
Building on its previous goal of welcoming 20 million tourists annually by 2020, the year Dubai stages the first World Expo in the Middle East and North Africa (MENA) region, the Dubai Department of Tourism and Commerce Marketing (DTCM) has set out its vision for the coming decade.
Its 'Dubai Tourism Strategy', which was approved by the Dubai Executive Council at the beginning of October, aims to attract 21 to 23 million visitors by 2022 and 23 to 25 million visitors by 2025.
The blueprint for tourism sector growth, with a view to boosting its contribution to Dubai's economy, includes a far-reaching commercial marketing strategy.
His Highness Sheikh Hamdan bin Mohammed bin Rashid Al Maktoum, Crown Prince of Dubai, who chaired the executive council meeting, heard how DTCM planned to achieve its goal of becoming the most-visited city worldwide by adopting ambitious development plans, initiatives and projects that will cement its position as a preferred tourism destination for millions of people each year.
"These plans and strategies to strengthen the tourism sector reflect our efforts to promote Dubai's stature in international tourism forums and make it a favoured destination for tourism, business and events, through ambitious initiatives that aim to achieve sustainable growth and guarantee our international competitiveness, which will enable Dubai to deal with the changes witnessed by economic sectors and international markets," Sheikh Hamdan said in comments published by UAE news agency WAM.
The DTCM's strategy is based on the theme 'Only in Dubai' and also involves promoting the city as a leading business destination.
Dubai is already a fully-fledged, multi-faceted tourism hotspot offering visitors from around the world a multitude of unforgettable experiences.
For this reason, the city is well on track to meeting its target of welcoming 20 million visitors by 2020.
Dubai welcomed 15.8 million international visitors in 2017 and 8.1 million during the first half of 2018, buoyed by growth in visitor numbers from its top three feeder markets – India, Saudi Arabia and the UK.
Arrivals from Russia, China and Western Europe also aided the growth of Dubai's tourism sector, which in 2017 contributed AED109 billion ($29.68 billion) to the emirate's economy, DTCM statistics reveal.
India delivered the largest number of international guests during the first half of 2018, once again crossing the one-million-mark over a six-month period and up 3% year-on-year.
Saudi Arabia and the UK remained the second and third largest feeder markets respectively, while China ended the first half of 2018 in fourth place, delivering 453,000 tourists, up 9% on H1, 2017.
However, Russia topped the growth charts with a stellar 74% increase over H1, 2017, delivering 405,000 visitors to jump five positions within the top 10 source markets.
Today, Dubai is the world's fourth most-visited city after Bangkok, London and Paris respectively, according to the latest MasterCardGlobal Destination Cities Index (GDCI) report.
Dubai also ranks as the world's top destination in terms of international overnight visitor spend, with total expenditure reaching $29.70 billion in 2017, the Mastercard's report confirmed. The city has maintained this position for the past three years.
Issam Kazim, CEO of Dubai Corporation for Tourism and Commerce Marketing (DCTCM), attributed Dubai's growing reputation as one of the world's top travel destinations to the city's "new attractions and experiences – from culture and the arts to history and heritage, as well as updates to attractions".
"The retail sector is also further enhancing its offering, presenting visitors with the opportunity to experience an ever-evolving array of shopping districts, activities, and offers," he added.