Dubai set to stage world-record bungee attempt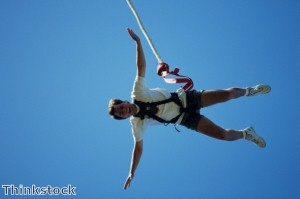 Dubai is preparing to stage another world-record attempt.
Following successes with the construction of the world's biggest indoor skydiving and wind-tunnel and the most nails filed in eight hours, the emirate is hoping to achieve further recognition, this time in the world of bungee jumping.
British expat Colin Phillips is hoping to enter the record books by completing the most jumps in a 24-hour period. The 32-year-old athlete and fitness coach is due to begin his attempt on March 20th at 19:00 local time and will complete the trial over three periods.
The first session will last until midnight, while the second is set to take place from 06:00 to 10:00 the following day. Meanwhile, the final one will run from 14:00 to 19:00. He will try and complete a total of 200 jumps during this time.
Phillips has been training hard over the past 12 months, doing numerous consecutive jumps every weekend. He will be leaping from a height of 90 metres, using a cord of 20 metres in length and will be limited to jumping 15 times per hour.
The world record attempt will be held at Gravity Zone, the only permanent bungee site in the UAE. The centre operates in partnership with the UK Bungee Club and as a result, conforms to the country's standards.
Speaking in advance of the event, Phillips commented: 'When I was a young boy, at the age of five, my mother gave me a Guinness World Record book for my birthday. Every year after I would receive the book, read it with fascination and think 'I would love to be in this'.'
The athlete is also making the attempt to raise awareness of breast cancer. He has been warned by doctors he risks repetitive strain injuries as a result of the jumps and was told to keep his blood pressure in check.
Phillips will try and break the record currently held by South Africa's Kevin Scott Huntly since 2011. He performed 105 jumps in 7 hours and 42 minutes, achieving a rate of one leap every four-and-a-half minutes.