Dubai set to stage charity swim this week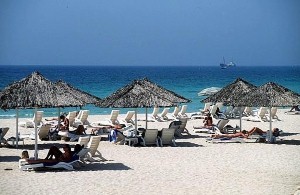 Dubai is set to welcome hundreds of swimmers for its annual charity swim this week.
The event will be staged at Burj Al Arab on Friday, in aid of Medecins Sans Frontieres. Organisers this year have added an extra competitive distance of 1,600 metres to go alongside the traditional 800 metre swim that goes round the resort's hotel.
Last year, 600 people took part in the competition, which was won by Emirati Olympic swimmer and captain of the UAE national team, Obaid Al Jasmi. He has been a passionate swimmer since the age of eight, after getting on the wrong sports bus.
Participants at Friday's event will be able to compete in one of six individual races, while there will also be a team swim. The price of entry ranges from AED 275 (£44) for the 800m distance to AED 295 for the longer competition. Registration will take place between 06:00 and 07.30 local time.
Al Jasmi has offered guidance to swimmers attempting the 1,600m length, advising that pacing themselves will be key to going the distance and not using up all their energy in the early stages. He added: 'Swim at about 80 per cent effort from the beginning to leave yourself something. Then, towards the end, swim at 90 per cent and then go for it at the end at about 100 per cent.'
Correct breathing will also give participants an advantage. Instead of taking all of the head out of the water, swimmers are advised to just use their mouth to breathe, with their chin still submerged. Al Jasmi also pointed out that competitors should concentrate on their own technique and progress, rather than just focusing on their rivals.
The two events will be staggered one after the other, with the competitive race scheduled to take place at 08:00. First, second and third placed finishers will receive prizes such as health club memberships, two night stays at the hotel and meals in Jumeirah restaurants.