Dubai 'set for construction project boom'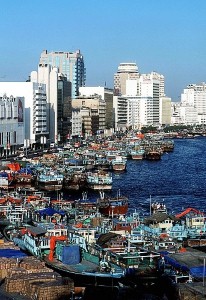 Dubai's property sector has recovered well from the global financial crisis of 2008 and remains an attractive proposition for investors both at home abroad.
Indeed, the outlook for the emirate could be set to become even more positive as a raft of new construction projects are set to be developed in the near future.
According to Arabian Business, a total of $1.3 billion (£800 million) worth of construction ventures have been unveiled over the past 12 months, which means a number of major new buildings could be sprouting up across the city in the coming years.
Among these projects is Meraas Holding's Bluewaters Island scheme. The venture will see the company develop the world's tallest Ferris wheel off the coast of the Jumeirah beach residence and the total cost of the scheme is believed to be close to $1.6 billion.
Furthermore, proposals have been revealed by the Dubai Multi Commodities Centre to construct the world's tallest commercial tower in the emirate. Ahmed Bin Sulayem, chairman of the organisation, told Bloomberg the building will be a minimum of 520 meters high and form part of a wider business centre development.
Craig Plumb, head of research for the Middle East and North Africa at global real estate services firm Jones Lang LaSalle, informed the news provider the large amount of projects on the horizon is good news but also stressed the need for caution.
'The new projects clearly reflect growing confidence in the market - a good thing - but we all know what can happen if we indulge in too much of a good thing,' he commented.
Mr Plumb added that investors should remember the mistakes of the past in order to ensure they are not repeated in the future.