Dubai sees economic growth of 4.2 per cent in Q1 2014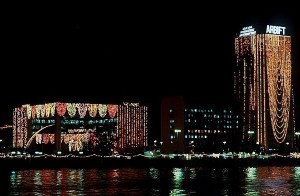 The recent strong economic growth in Dubai has continued during the first quarter of 2014, new official data has revealed.
New figures from the Dubai Statistics Centre have revealed that the emirate saw a 4.2 per cent expansion during the three-month period, with GDP increasing to AED 84.6 billion (£14.1 billion) during the period - up from AED 81.3 billion in the first quarter of last year.
During the quarter, light industries grew by 6.8 per cent, contributing 13.5 per cent to the city's GDP, while a growth rate of 5.2 per cent was achieved by the transport, storage and communications sector.
Meanwhile, the real estate and business services industry expanded by 5.1 per cent, with a 4.1 per cent rise in the retail and wholesale trade. The latter industry accounted for the largest individual share of the GDP total, contributing 27.4 per cent to the final figure.
Hotels and restaurants saw their revenues increase by 3.9 per cent, with the financial sector experiencing a more modest 1.2 per cent rate of expansion.
Aref Obaid Al Muhairi, executive director of the Dubai Statistics Centre told the Arabic language daily Al Bayan that all non-oil sectors in the emirate increased their overall economic contributions during the first quarter, which is testament to the robust financial health of the thriving region.
He explained: 'Growth affected all sectors … the continued growth in Dubai is a result of the prudent policies and initiatives adopted by the government to expand the domestic productive base, mainly growth-oriented sectors like trade, tourism, logistics and financial services.'
This comes after a report published by Phidar Advisory last month suggested that Dubai's GDP growth could climb to as high as 5.6 per cent annually if the global economic recovery progresses well. Even if momentum slows down elsewhere in the world, an annual growth rate of around 3.5 per cent remains achievable for Dubai.