Dubai's world-class opera house nears completion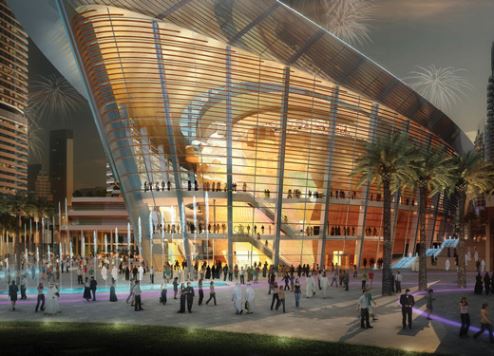 Construction of the new 2,000-seat Dubai Opera is almost complete, the building's master developer Emaar has revealed.
The performing arts venue, housed in an iconic dhow-shaped building in Downtown Dubai, will be the focal point of the new Opera District development, located near the Burj Khalifa.
It's a multi-format venue designed to stage the best of regional and international art, film, dance and music.
"Inspired by the maritime traditions of Dubai and as iconic in appearance as the world-famous Sydney Opera House, Dubai Opera is styled on the traditional sailing vessels of the Arabian Gulf, the classic wooden dhows that are synonymous with the world-famous Dubai Creek," said an Emaar statement.
"The 'bow' of the structure will contain Dubai Opera's main stage, orchestra and seating areas, as well as the proposed sky garden and restaurants. The elongated 'hull' area will feature the waiting areas for spectators, taxi-drop off area, and parking amenities."
The venue is cleverly designed to offer three basic formats, with two modes suited to theatre and concert performances, and the flat-floor mode facilitating events and exhibitions.
When it opens its doors later this year, Dubai Opera is expected to play host to a range of cultural and business activities, from opera, theatre, concerts, children's shows and comedy, to Arab and world music, popular entertainment, as well as business and consumer events, exhibitions and shows.
The performance house will be managed by Dubai Opera CEO Jasper Hope, the former chief operating officer of the world-famous London venue, the Royal Albert Hall.
Dubai Opera, which will feature a rooftop restaurant and sky garden, is set to "energise Dubai's events and tourism sectors", says Emaar Properties chairman Mohammad Alabbar.
Dubai's Opera District will also feature luxury hotels, a retail plaza, waterfront promenades and recreational spaces and parks.