Dubai's unique skyline celebrated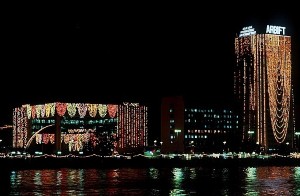 Dubai's iconic skyline has been celebrated by a new art exhibition, with pieces in a range of mediums praising the emirate's unique buildings and blend of traditional and modern architecture.
The collection - entitled 'Dubai skyline' - is from Mawaheb, an art studio for adults with special needs who have finished school. The studio aims to take the focus away from the group's disabilities, by helping them to discover, hone and showcase their creative talent.
Such is the magnitude of talent possessed by the group, their work is regularly exhibited by prestigious galleries across Dubai.
This latest collection - which features paintings, collages, mosaics, moulded clay and ceramic bowls - captures the beauty of the emirate's iconic building and stunning views of the city. The founder of Mawaheb believes it reflects the ethos of Dubai's multi-cultural community and dynamic environment.
Wemmy De Maaker told Gulf News: Our ever-curious artists wanted to take a closer look at their environment, and to explore the cityscape from a very personal perspective, as residents of Dubai.
"They thought deeply about what Dubai means to them, and looked afresh at the views they see every day, the vistas they have grown up with, the buildings where they live and work, and the Dubai skies they wake up to. This show is a celebration of the city and what it means to them."
Gulshan Kavarana, the studio's art teacher, said that the artists themselves chose the theme and have been working hard over the last few months to create individual and collaborative pieces. Michael Arnold, an architect-cum-artist, worked with the group, teaching them how to capture buildings from an artist's perspective.
The collaborative works include a piece titled 'Dazzling Dubai', which is a colourful and sparkling mosaic of the emirate's most famous buildings, made from ceramic tiles, trinkets and coloured glass, while a clay work called 'Shamal' depicts the city as it experiences a sandstorm.
'Dubai Skyline' and other art exhibitions help to showcase the cultural offerings the emirate can provide visiting tourists, in addition to the plethora of museums and musical extravaganzas.