Dubai's tram service has been launched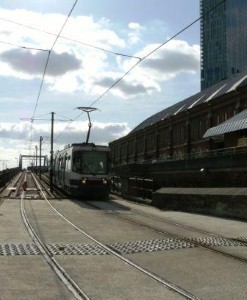 Dubai's long-awaited tram service has finally launched and passenger service will begin at 06:30 GST tomorrow (November 12th), the Roads and Transport Authority (RTA) announced today.
The new transport link's maiden voyage will be made by Sheikh Mohammed bin Rashid Al Maktoum, vice-president and prime minister of the UAE, and other senior officials from the RTA.
According to the authority, the first phase of the tram service will stretch 10.6 kilometres and stop at 11 different stations in major residential and commercial areas between Dubai Marina and Al Sufouh.
This development is great news for tourists, as it will help them make their way around the emirate during their stay, increasing the chances of a return visit in the future.
The new service is the first tram outside of Europe that is powered by ground-based electric cables extending throughout the tramway, avoiding the need for hanging power lines. In addition, it is the first in the world to utilise platform screen doors, which synchronise with the opening and closing of the tram's doors to offer additional safety to passengers.
In addition, the project is the first to offer air-conditioned stations and different cabin classes, using the same gold, silver, and women and children carriage system offered by the Dubai Metro.
Mattar Al Tayer, chairman of the board and executive director of the RTA, commented: "The Dubai Tram is a brainchild of His Highness Sheikh Mohammed bin Rashid Al Maktoum, vice-president and prime minister of the UAE and Ruler of Dubai, to provide an advanced transit system that serves the JBR, Marina and Sufouh."
Dubai's public transport agency is expected to start the second phase of the project soon, officials announced earlier this week. This stage will extend the tram service by 14.6 kilometres along Sufouh Street.
Mr Al Tayer added that the new service was created to improve mobility within the emirate in general, especially in areas of tourist and economic importance.
"It also enhances the business, trade and tourism structures as well as the economic base of the emirate, besides minimising carbon emissions, sustaining the environment, and improving the living environment of residents," he added.