Dubai's tourism triumphs in numbers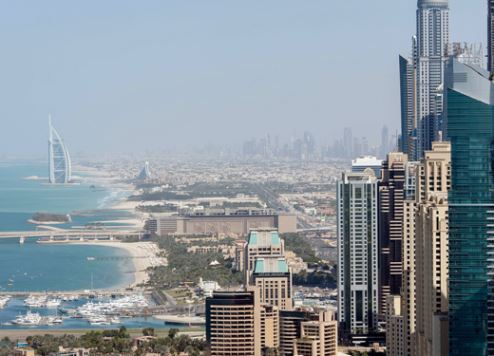 You've heard the hype, now see the figures supporting Dubai's destination success story
14.2 million visitors, 4th most visited city globally
Having welcomed 14.2 million overnight visitors in 2015, Dubai continued its rise up the global rankings of most visited cities, taking fourth spot with a strong 7.5% visitor increase over 2014 – double the United Nations World Travel Organisation's (UNWTO) projected 3-4% global travel growth for the same period.
The emirate's tourism sector is making steady progress towards its target of 20 million visitors per year by 2020.
Top 10 source markets by country
India - 11%
KSA – 11%
UK – 8%
Oman – 7%
USA – 4%
Pakistan – 4%
Iran – 3%
Germany – 3%
China – 3%
Kuwait – 3%
Regional source market top 3
GCC – 23%
W. Europe – 21%
S. Asia – 16%
Purpose of visit
Leisure visitors continued to make up the lion's share in 2015 at 64.9%, up 10% over the previous year, further underscoring the city's growing attractions, events and activity portfolio that continues to appeal to an ever-growing catchment of visitors.
Dubai continued its core focus of becoming the world's leading family destination – more than half of all travellers visiting the city were families in 2015, while individual travellers represented 29% of the overall base.
Business traveller growth also remained steady at close to 20% of all visitors to the emirate in 2015. This confirms the city's strategic importance as a global business and event hub as well as being an international gateway to high-yield regional markets.
Those visiting friends and families/or relatives (VFR) represented 13.9% of all visitors in 2015, underlining the importance of the residing population in being advocates for the city and goodwill ambassadors for Dubai through word-of-mouth endorsement.
Average length of stay: The average length of stay was 7.2 days, primarily led by families travelling on leisure visits, which continues to inform the long-term hotel accommodation offering. Those staying in hotels and hotel apartments comprised nearly three-quarters of all accommodation choices for visitors in 2015, meaning Dubai needs to ensure its supply pipeline continues to deliver quality, capacity, diversity and value to appeal to an expanding visitor demographic whilst maintaining its premium destination offering across budgets.
A place to stay: Dubai saw an overall growth in its hotel and hotel apartment inventory of 6% to finish the year with 98,333 rooms across all categories. The total number of establishment grew 3% to total 677 properties. In August 2016, the number of hotel rooms surpassed the 100,000 mark with the opening of the 1,004-room Westin Dubai Al Habtoor.
A total of 26.4 million room nights were recorded in 2015, up from 24.97 million the previous year. Average length of stay remained nearly at 3.6 nights. Average occupancy in 2015 was 77%.
The number of five-star properties rose to 91, representing just over 31,500 rooms and nearly a third of all inventory. Four-star and below establishments made up a further 42% of all hotel accommodation in 2015, with hotel apartments representing 26% of the remaining stock, providing an ever increasing choice to suit different visitor needs.
Attraction wonderland: Downtown Dubai remained the city's most iconic destination in 2015, with the world's largest shopping centre, Dubai Mall, at the forefront. With its rich shopping offering, year round family activities, including the captivating Dubai Aquarium, it remained the most visited attraction with 86% of all international travellers going in 2015. The adjacent Dubai Fountain came in second place at 67% and one of the world's most 'selfied' attractions and largest tower, Burj Khalifa, saw more than 30% visitation.
The city's expanding cultural and heritage offerings also remained a major draw for visitors, with 49% engaging in the rich sites of the souks and old Dubai, which is set to further increase with the launch of key rejuvenation projects.
The city's famous beaches and marinas continue to be a major draw for international travellers with nearly half taking in the white sands, sparkling waters and vibrant promenade and waterfront hotspots. The city's long-standing icons, The Palm Jumeirah and The Burj Al Arab hotel – again voted the Best Hotel in the World and Best Hotel in the Middle East at the Daily Telegraph's annual Ultimate Luxury Travel Related Awards (ULTRAs) – remain hugely popular with international tourists.
% of travellers visiting key Dubai attractions
86% Dubai Mall
67% Dubai Fountain
49% Beach & Marine
49% Heritage & Culture districts
33% Palm Jumeirah
31% Burj Khalifa
19% Burj Al Arab
19% Desert Safari
11% Waterparks
6% Ski Dubai
Dubai International (DXB): Boosted by the growth of some 100 airlines that connect Dubai International Airport to more than 240 destinations around the world, most notably Emirates Airline and flydubai, annual passenger traffic at DXB surged 10.7% to reach a record more than 78 million passengers in 2015 compared to 70.47 million recorded during 2014. During the year DXB welcomed new airlines including Air Canada from Toronto, Eurowings from Cologne and China Southern from Wuhan, among others. A total of 12 new passenger destinations were also added. Spurred by Emirates' network expansion and ongoing growth on routes to the region, North America topped the regional markets in terms of percentage growth in 2015 (+25%), followed by the GCC (+15%), and Asia (+12%).
A retail haven: Retail is a key pillar of Dubai's destination offering and in 2015, the emirate's retail market was estimated to be worth $35.4 billion. This figure is expected to expand 7.7% in 2016, and continue growing at a compound annual growth rate (CAGR) of 8.1% until 2020, when Dubai's retail sales turnover is expected to surpass $52 billion.
Around 200,000 square metres of additional retail space was completed in Dubai in 2015, including a 36,000-square-metre extension at Mall of the Emirates. According to real estate consultancy JLL MENA, around 393,500 square metres of additional retail space is scheduled to be completed in 2016 across Dubai.
*Source: Dubai Tourism, April 2015