Dubai's tourism industry scales new heights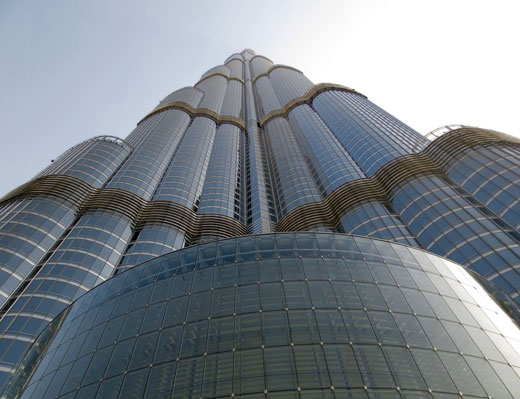 First-half international overnight visitor arrivals reached a record 8.1 million, driven by more visitors from India, Saudi Arabia, the UK and key countries in Western Europe
Dubai welcomed a record 8.1 million international overnight tourists in the first six months of 2018, buoyed by growth in arrivals from its top three feeder markets – India, Saudi Arabia and the UK.
Russia, China and Western Europe also contributed to the growth of the emirate's tourism sector, which at the end of 2017 was worth AED109 billion (US$29.68 billion) annually, according to Dubai Tourism.
India delivered the highest number of international guests, once again crossing the one-million-mark over a six-month period and up three percent year-on-year.
KSA and the UK remained the second and third largest feeder markets respectively, while China ended the first half of 2018 in fourth place, delivering 453,000 tourists, up nine percent on H1, 2017.
But it was Russia that topped the growth charts with a stellar 74 percent increase over H1, 2017, delivering 405,000 visitors to jump five positions within the top 10 source markets.
Both markets continued to benefit from added ease of travel access following the UAE's introduction of visa-on-arrival facilities for Chinese and Russian citizens in late 2016 and early 2017 respectively.
The first half of 2018 also witnessed increased contributions from the USA and Germany, standing strong in seventh and eighth positions with 327,000 and 302,000 visitors respectively.
Western Europe remained the largest source market by region, contributing 21 percent of the overnight visitor volumes. France, Italy and Germany were the fastest-growing markets, delivering strong double-digit year-on-year H1 increases of 18 percent, 11 percent and 12 percent respectively.
Dubai Tourism said its first-half results were testament to its successful market diversification strategy and its drive to appeal to more sectors and audiences in key source countries.
"Attracting 8.1 million visitors during the first half of 2018 stands us in good stead as we accelerate momentum towards our visionary aspiration of becoming the most visited city in the world," said Director General H.E. Helal Saeed Almarri.
"Dubai's tourism proposition has steadily evolved, prudently yet actively responding to market demand, and increasing the emirate's attractiveness among target visitor segments across our key markets. As such, we have strategically deployed partnerships to ensure we continue to stay relevant and front of mind to both first-time and repeat visitors, while simultaneously creating a steady stream of Dubai ambassadors."
With Dubai now attracting vistors from a broader swathe of source markets, Dubai Tourism is looking to further customise and refine its marketing and promotions strategy. This will be supported by insights-driven analytics, focusing on "time-and-audience relevant touchpoints within the travel decision ecosystem", it said.
Market-specific video campaigns are also on the agenda. This follows the recent success of Dubai Tourism's multi-award-winning #BeMyGuest campaign featuring Indian celebrity and Dubai ambassador Shah Rukh Khan, which delivered more than 100 million video views in just eight weeks.
As one of Dubai's fastest-growing source markets, China is a focal point for future marketing activities. Dubai Tourism has forged a series of strategic agreements with leading Chinese digital and technology giants to help position Dubai as a destination of choice for Chinese travellers and more initiatives are expected to follow soon.
Other levers delivering ongoing tourism growth include the recent introduction of the stopover visa, whereby transit passengers are exempt from all entry fees for the first 48 hours of their stay. Additionally, future visa regulation changes will offer an added benefit for travellers to the UAE over the summer period, exempting dependents aged 18 years or below from visa fees – a move that is expected to boost tourist numbers further.
Dubai's cruise industry continues to play a pivotal role in the growth of the emirate's tourism sector.
The city is strengthening its appeal as the favoured destination amongst international cruise lines and cruise tourists, forecasting a 2018-2019 season that will be bigger than ever. Twenty cruise ships from 14 lines will cruise from Dubai in 2019 and 2020, while seven cruise lines will homeport in the city, offering roundtrip Dubai cruises during the winter season.
To actively support this segment, Dubai has taken steps to facilitate hassle-free access, including the recent introduction of the multi-entry UAE visit visa exclusively for cruise tourists from more than 50 countries.
"The resounding support we receive from our government and the public and private sector, both in Dubai and across the globe, is testament to the confidence that we collectively share in the inherent strength, appeal and long-term sustainability of Dubai's tourism proposition and our ability to deliver exponentially superior traveller experiences to the widest range of audiences," said Almarri.
"This collaboration is fundamental to our success, and together we remain dedicated to continuing to drive record numbers of visitors to Dubai, consequently increasing the tourism sector's impact on the emirate's economy."
He added: "Looking ahead to the second half of 2018, and additional areas of growth for the tourism sector, the recent move to implement a value added tax (VAT) refund mechanism for tourists will also ensure the industry's competitiveness globally and drive further growth in its GDP contribution to Dubai."