Dubai's top 5 upcoming tourism projects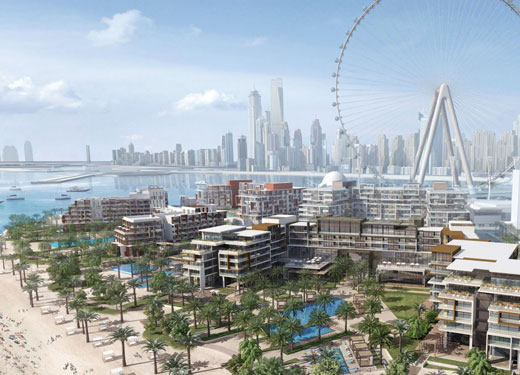 Here's a round-up of five of the most exciting tourism projects set to open in Dubai by 2020
Six Flags Theme Park Dubai
Scheduled opening: 2019
The first version of the famous US-based theme park to open in the Middle East and the latest development from Dubai Parks & Resorts, Six Flags Dubai will feature "world-first" rollercoasters, live shows and other attractions when it opens later next year.
Six Flags Dubai will feature at least three world record-breaking rides in addition to six rollercoasters, four aerial attractions, a 350-metre River Rapids ride and three performance spaces along with many attractions tailored for younger guests.
In total there will 27 exciting rides located across six themed zones: Thrillseeker Plaza, Magic Mountain, Fiesta Texas, Great Escape, Great Adventure, and Great America.
Additionally, the park will house 16 F&B outlets and 16 retail outlets.
Bluewaters Island 
Scheduled opening: Q4, 2018
This landmark development, which is on track to open before the end of the year, is located off the coast of Jumeirah Beach near Dubai Marina. Famous for its 210-metre observation wheel, Ain Dubai, which is set to be the world's largest, the island also boasts 200 retail and dining outlets, warerfront residences, hotels and a marina. A multi-mode transport system links the island with the mainland, while a dedicated 265-metre pedestrian bridge enables visitors to stroll between the two destinations.
Marsa Al Arab 
Scheduled opening: 2020
Dubai's latest coastal attraction will encompass two man-made islands currently under construction adjacent to the seven-star Burj Al Arab in Jumeirah. The development will add 2.2km of beach frontage to Dubai's ever-expanding coastline, with one of the islands dedicated to entertainment and family tourism while the other will house luxury villas and a private marina. Key highlights of the development include a larger and improved Wild Wadi Waterpark; a first-of-its-kind Marine Park; a 1,700-seat theatre that will house the Middle East's first Cirque de Soleil; the Dubai Pearl Museum, which will include a pearl farm and pearl-themed hotel; 400 F&B outlets and a large assortment of retail outlets.
Deira Islands
Scheduled opening: 2020
This 15.3 sq kilometre waterfront destination currently under development in Dubai is spread across four manmade islands located in the north of the city near the Sharjah border. The development will create 40 kilometres of new coastline including 21 kilometres of prime beachfront real estate. Deira Islands will be home to a huge number of attractions, with one of the biggest being Deira Night Souq, which will stretch 1.9km along the waterfront and will feature 5,300 shops and 96 F&B outlets. The development will also house the long-awaited Deira Mall, which will be one of the world's largest shopping destinations with 4.5 million sq ft of leasable space and and 15,000 sq ft family friendly entertainment zone. A massive outdoor amphitheatre capable of housing 30,000 spectators will also feature.
Dubai Creek Harbour
Scheduled opening: First phase 2020
Located adjacent to Ras Al Khor Wildlife Sanctuary, Dubai Creek Harbour will be home to the city's tallest building, the $1 billion Santiago Calatrava-designed Dubai Tower, when the first phase of the development is launched in 2020. The tower, which is set to rival Burj Khalifa as Dubai's most iconic building, will house sky-high outdoor observation decks offering 360-degree views of the city and beyond. The VIP Observation Deck, meanwhile, will "recreate the splendour of the Hanging Gardens of Babylon", according to the developer. The 6 million sq metre Dubai Creek Harbour development will be twice the size of Downtown Dubai when it is fully completed in 2025. Other highlights include waterfront eco-resorts, a marina and yacht club, galleries, as well as vast commercial and retail space.