Dubai's stunning shoreline named world's best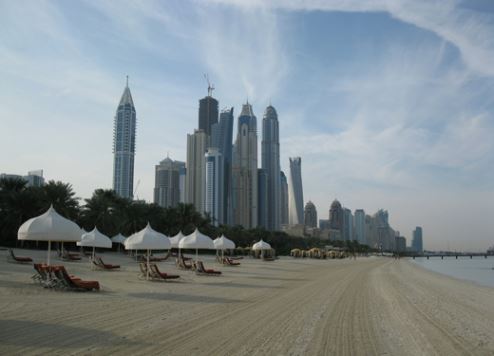 Dubai's shoreline has ranked first in a new list naming the world's top 10.
The list was compiled by a leading psychologist and influential travel blogger, who teamed up with international cruise firm, Royal Caribbean International, to scientifically prove which countries could lay claim to the most attractive shorelines.
Royal Caribbean's fleet of 25 ships provide guests with uninterrupted views of more than 250 destinations worldwide, and following the cruise line's work with psychologist and author Dr David Holmes, it has revealed the formula to determine which shorelines are scientifically proven to be the best.
Taking into account elements such as, Clarity of the Horizon (CH); Sea Colour (SC); Sand Quality (SQ), Cleanliness (C), Interesting Features (IF), Air Quality (AQ) and the Weather (W) the formula is:
(SC+CH) x (IF+SQ) x100/21.33
AQ+C+W
Thankfully, for the unscientific amongst us, influential travel vlogger Laila Swann, agreed to come 'aboard' and crack the code to reveal – based on the equation – the world's top ten shorelines.
Swann, known to her huge online following as Laila Loves, was named the UK Top Travel Blogger in the Blogger Awards in 2015 and plays a starring role in her families' YouTube channel "Meet The Vloggers", which has more than 275,000 subscribers.
The eclectic list of best shorelines, based on Laila's broad travel experience, is topped by Dubai, thanks to its iconic architecture and landmarks including the Burj Khalifa and Burj Al Arab.
These unusual and striking shoreline features, combined with Dubai's tropical desert climate and crystal clear seas, ensured it found a well-earned place at number one.
The list was not without controversy, however, with the UK's Blackpool coming a close second to the holiday hotspot of Dubai.
Blackpool scored highly for its clean and clear Blue Flag beaches and interesting features such as the famous Blackpool Tower.
Swann said: "I've used Dr Holmes' report and the science behind the equation to identify the top ten shorelines in the world and having travelled to Dubai in March this year, I can certainly vouch for its sensational shoreline.
"While this formula may not account for every eventuality, the top ten hopefully helps holidaymakers identify the shorelines which are, scientifically, most impactful. 
"All countries have good and bad shorelines, however, some are stunning in their unpretentious beauty combined with iconic features.  Shorelines such as Dubai in UAE score well across all elements of the formula."
A spokesperson from DP World Cruise Terminal in Dubai said: "We were delighted to hear that Dubai's stunning shoreline been listed as the world's number one seascape. The view of the city as you come in by sea is unique and it's wonderful that this has been recognised."