Dubai's property market ends 2018 on bullish run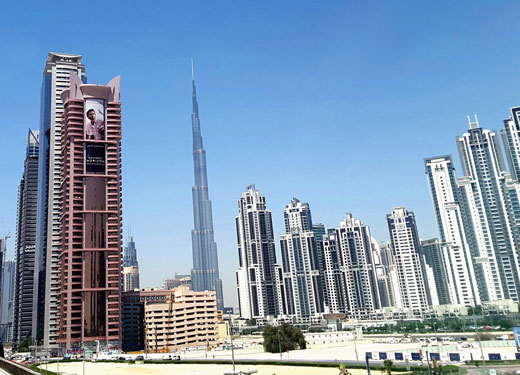 Investors flooded the market in final weeks of 2018, new government data shows
Dubai's thriving real estate sector has celebrated a bumper end to 2018, with more than $1.5 billion-worth of transactions recorded in the final 10 days of the year, according to official data issued by Dubai Land Department (DLD).
More than 2,080 property sales were recorded during the brief December period, marking a high point for what proved another strong 12 months for the city's real estate sector.
DLD data shows there were 39,802 property transactions worth $44.1 billion recorded in Dubai in the first nine months of the year, while Q3 sales were up 56% year on year, according to a property investment report published by Egyptian bank EFG Hermes.
Discussing the sales rush at the end of December, the director general of Dubai Land Department (DLD), Sultan Butti bin Mejren, said the development was "a positive indicator of a rising wave in the real estate sector which is expected to begin in the new year".
"This activity affirms the attractiveness of Dubai's real estate sector, specifically the demand from buyers and investors who are benefitting from legislation and investment incentives recently announced by HH Sheikh Mohammed bin Rashid Al Maktoum, Vice President and Prime Minister of the UAE and Ruler of Dubai, to make Dubai the preferred investment destination," Bin Mejren added.
"These recorded transactions within a short time reflect renewed confidence in our real estate market, especially in light of Expo 2020 preparations. The investors' decisions stem from their monitoring of successive developments regarding government legislation that guarantees their rights, in addition to the incentive environment established by the government to invest in this sector and ensure long-term rewarding returns on investment."
According to official DLD data covering the period, the area reporting the most significant activity in terms of land, building, and unit transactions combined was Al Warsan First, which recorded 200 transactions worth AED111 million ($30.2 million), followed by Business Bay with 115 transactions worth AED149 million and Marsa Dubai (98 transactions worth AED161 million). Other popular areas for investment were Al Barsha South Fourth, Wadi Al Safa 5, Burj Khalifa, Al Merkadh, Palm Jumeirah, Hadaeq Sheikh Mohammed Bin Rashid, and Al Hebiah Fourth.
Al Warsan First recorded the largest number of unit sales with 196 transactions worth AED86 million, followed by Business Bay with 115 transactions worth AED149 million and Marsa Dubai with 98 transactions worth AED161 million.
Almost 20,000 new units were handed over to investors and end users in 2018, marking one of the busiest 12 months for the property sector for the past decade.
This momentum is set to continue in 2019, with almost 34,000 units scheduled to hit the market over the next 12 months.
In 2018, the Dubai government launched a series of initiatives designed to attract new investment in the emirate's property market, including revised mortgage laws and an effort to attract alternative financing methods.
Bin Mejren said the DLD was committed to making it even easier for local and international investors to purchase property in Dubai, by introducing new technologies and initiatives designed to streamline transaction processes.
"After launching a comprehensive package of smart applications, the level of interest of foreign investors increased, allowing them to recognise the features Dubai's unique real estate sector, and the variety of products offered in the market that suit different buyers — whether seeking a second home outside their homeland, or top investors who are roaming the world for the best investment options," he added.