Dubai's next mega-theme park revealed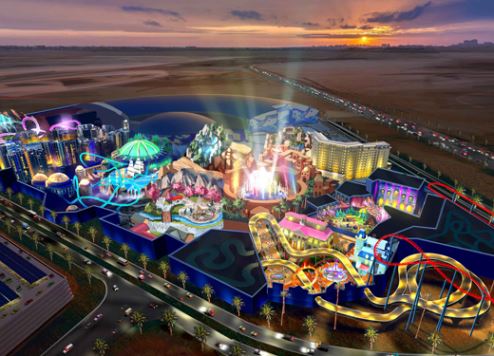 IMG Worlds of Legends will bring more global brands to life in the desert
Dubai's new-found status as a global theme park hub is gaining momentum, with plans for yet another mega attraction revealed by operator IMG Worlds.
Just four months after opening the doors to IMG Worlds of Adventure – the world's largest indoor themed destination – the blueprint for sister park, IMG Worlds of Legends has been disclosed.
With nine unique zones spread across an area of more than two million square feet, IMG Worlds of Legends will feature some of the most exciting and popular brands in the world, marking one of the biggest global licensing deals of its kind.
Attractions will include characters from global brands including Nickelodeon (Teenage Mutant Ninja Turtles, Dora the Explorer, SpongeBob SquarePants); Ubisoft (Assassin's Creed, Raving Rabbids, Just Dance; Saban Brands (Saban's Power Rangers); Pokémon; Mattel (Barbie doll, Hot Wheels, Bob the Builder, Thomas & Friends, Mega Bloks); The Animé Zone (Toei Animation: Dragon Ball Z and One Piece and TV TOKYO: Naruto); Cartoon Network (a partner in IMG Worlds of Adventure) with We Bare Bears and other hit and classic brands to be revealed; and IMG Worlds' proprietary brands (Legends of Arabia and Lost Valley – Dinosaur Adventure).
IMG Worlds of Legends, situated adjacent to IMG Worlds of Adventure, will feature futuristic interactive rollercoasters, state-of-the-art rides, breathtaking water-based attractions, and spectacular live entertainment.
With its temperature-controlled environment and retractable roof, guests will be offered the choice of enjoying the thrilling rides safely protected from the desert heat in summer or basking in the sun on the sky-high coasters in winter as IMG Worlds of Legends is open 365 days a year, offering the best of both worlds.
IMG Worlds of Legends will offer a fully immersive experience, with each zone in the theme of a different imaginary world, complete with 104,000 square feet of food and beverage space and 102,000 square feet of retail space.
Commenting on the announcement, Ilyas and Mustafa Galadari, owners of the Ilyas & Mustafa Galadari Group, said: "We are building on the success of IMG Worlds of Adventure with the next phase of growth – IMG Worlds of Legends. We are committed to bringing the boldest, most dynamic attractions to Dubai, combining innovative rides with value entertainment for the whole family.
"We are encouraged to look to the future as Dubai races towards fulfilling the vision of His Highness Sheikh Mohammed Bin Rashid Al Maktoum, Vice President and Prime Minister of the UAE and Ruler of Dubai, to attract 20 million visitors to the emirate by 2020. We are fast becoming the family entertainment capital of the Middle East with high growth prospects that permit us to plan for the long term.
"We look forward to welcoming residents as well as visitors from the region and abroad to enjoy a unique theme park adventure like no other."
Lennard Otto, CEO of IMG Worlds, added: "IMG Worlds continues to attract truly international brands to Dubai and we are now one of the principal players in the global theme park industry. We have executed on our brand portfolio strategy, bringing together the biggest names in the industry under one umbrella to create the ultimate leisure and entertainment destination. IMG Worlds of Legends has beloved characters, dynamic rides, interactive attractions, and incredible architectural engineering across nine distinct zones, spanning over 2 million square feet."
IMG Worlds of Legends will connect to IMG Worlds of Adventure via a state-of-the-art sky bridge, which will double as a gateway to the park.
There will also be a pedestrian walkway, allowing easy transit between the two parks. Guests will be able to purchase tickets to each park separately or choose a multiple park pass for the ultimate day out for families and friends.
IMG Worlds of Adventure, which opened in August, is preparing to debut its 12-screen Novo Cinema.
The indoor park features four unique worlds all under one roof, Cartoon Network and Marvel as well as the Ilyas & Mustafa Galadari Group's original concept the Lost Valley-Dinosaur Adventure joined together by IMG Boulevard.
The park also features 25 original retail concept stores, 28 immersive F&B outlets and employs more than 1,600 staff.
The UAE's existing and new-generation theme parks will attract more than 19 million admissions a year by 2020 if current trends continue, according to recent data published by Colliers International.
The prediction was made using existing admissions and arrivals data for Yas Island's Ferrari World and Waterworld and Dubai's Aquaventure and Wild Wadi, as well as a sample of new and upcoming parks.
All four parks have experienced a strong correlation between the rising number of visitors to the UAE and its admissions, with their combined admissions predicted to reach 19 million visitors annually.
Similar patterns are expected to be seen for IMG Worlds of Adventure and Dubai Parks and Resorts (DPR), which also opened in Dubai this year featuring LEGOLAND® Dubai, LEGOLAND® Water Park, Bollywood Parks™ Dubai, MOTIONGATE™ Dubai and Riverland™ Dubai, the multi-themed dining and retail destination linking all of the parks and home to the Polynesian-themed resort, Lapita.
Both parks have ambitions to draw in millions of visitors in their first year of operations, with IMG expecting to attract 4.5 million visitors and Dubai Parks and Resorts predicting 6.7 million visitors.
PwC's report entitled 'The UAE's transformation into a world-class Leisure & Entertainment destination' estimates the country's total L&E market potential is set to almost double to 45 million visitors by 2021.
International tourists will account for two-thirds of that total, while residents and friends and relatives of residents, will contribute the remaining 15 million.
PwC believes the UAE's theme parks alone will attract 18 million visitors by 2021.
"The UAE has come a long way to realise its global ambition of becoming a Leisure & Entertainment hub to rival Orlando, which is the current market leader," confirms PwC partner Philip Shepherd.
Aside from IMG Worlds Of Legends, other upcoming UAE theme parks include the region's first Six Flags, scheduled to open at DPR in 2019, as well as the $1 billion Warner Bros theme park on Abu Dhabi's Yas Island, which is scheduled to open in 2018.