Dubai's new mega safari park to open mid-2016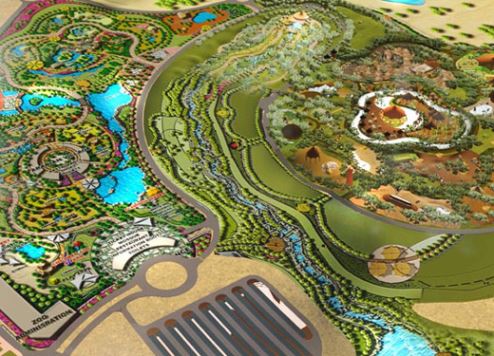 The AED150 million (US$41 million) Dubai Safari Park will open to the public in mid-2016, senior government officials have revealed.
The mega zoo, located next door to Dragon Mart in Al Warqa, covers some 119 hectares and is being built to the highest international standards, according to Dubai Municipality's director general, Eng Hussain Nasser Lootah.
"The new zoo will be home to almost 1,000 animals from around the world, and out of those, there will be more than 350 species of rare and endangered animals," he said.
It has been modelled on some of the world's leading safari parks including those in Singapore, Austria, Germany and the famous San Diego Zoo, he explained.
The design is environmentally friendly, incorporating the latest water recycling, waste disposal and general recycling methods, as well as a hybrid operational system.
In addition, a solar-powered park will convert sunlight into conventional electricity during the evening.
"The Village Safari area is almost complete, which will house the animals, and the recreational areas providing umbrellas for visitors and the cages for animals have already been set up," revealed Lootah.
"We are now putting the finishing touches to the main building, as well as the landscaping."
The park will feature 100 plant varieties plus 2,500 trees.
Even the cages have been customised to suit the local climate and on the advice of international zoologists and specialists, added Lootah.
Dubai Safari Park features several themed areas including Arabian, Asian and African villages. Key features include a golf course, a botanical garden and a butterfly garden as well as a food court and parking for 1,600 parking spaces.
Dubai Municipality plans to expand this to 3,600 parking spaces in the future in anticipation of the attraction's popularity with residents and tourists alike.