Dubai's mega theme park sees spike in visitor numbers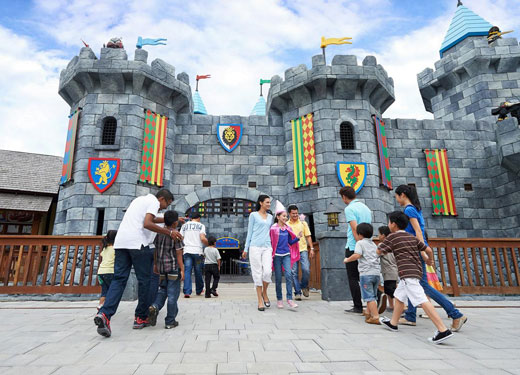 The Middle East's largest multi-themed leisure and entertainment destination, Dubai Parks & Resorts, witnessed a 46 percent spike in visitor numbers during the first half of 2018.
Operator DXB Entertainments said 1.46 million visitors flocked to the theme park during the six-month period, with 38 percent hailing from overseas.
The mega attraction was particularly popular with tourists from the MENA, GCC and Indian Subcontinent regions, it revealed.
Dubai Parks and Resorts, which opened in October 2016, features Motiongate Dubai as well as the region's first Legoland Park and a Legoland Water Park and Bollywood Parks Dubai, connected by Riverland Dubai, a retail, dining and entertainment walkway.
"The business is making good financial and operational progress under our clearly defined strategy," said Mohamed Almulla, CEO and managing director, DXB Entertainments.
"Our primary focus is on driving footfall, generating repeat visitation through a simplified pricing structure and increasing brand awareness through targeted marketing initiatives."
He said Dubai Parks & Resorts was "continually refining" its offering to meet demand, revealing a Bollywood Parks Dubai enhancement strategy was already in place that would increase the number of smaller family-friendly rides and enhance the theming, performances and food options.
"Our goal is to make Bollywood Park Dubai a truly unique experience with more family-friendly options," he added.
DXB Entertainments reported total revenues of AED116 (US$31.6 million) in the second quarter of 2018, of which AED80 million ($21.8 million) was generated through the theme parks, AED5 million ($1.36 million) through retail and AED17 million ($4.63 million) through hospitality.
Within the theme parks, 68 percent of revenue in Q2 was driven through admissions and 27 percent through in-park spend.
"DXB Entertainments has made good progress in growing its brands in the region and beyond during the first half of 2018," said Almulla.
"Looking ahead, we will continue to grow visitation from our key markets in the UAE, GCC and internationally, whilst also focusing on enhancing the visitor experience to deliver on DXB Entertainments' long-term strategy."