Dubai's hotel sector 'continues to grow'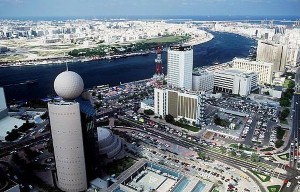 During the second quarter (Q2) of 2014, Dubai's real estate markets maintained the positive performance it was able to demonstrate earlier in the year. In particular, the emirate's hotel and retail sectors experienced significant growth that shows no signs of slowing, according to a new report.
The 'Dubai Real Estate Market Overview' from Jones Lang LaSalle (JLL) reveals that although an additional 1,500 hotel rooms were completed in Q2, the market maintained the levels of growth it had achieved in the previous quarter, suggesting now could be the time to invest in the industry. Over the course of the last three months, Dubai's hotels recorded the highest levels of revenue per available room (RevPAR) since the financial crash in 2008.
Furthermore, average occupancies remained stable at around 85 per cent during the year ending May 2014. Overall, room rates saw an increase of around three per cent, taking the average to $276 (£160), which makes Dubai one of the strongest performing hotel markets in the world.
A second report released by JLL in June this year revealed investor confidence is growing in the UAE booming hotel industry. Chiheb Ben-Mahmoud, executive vice president and head of Hotels & Hospitality Group, Middle East & Africa at JLL, commented: "The synergies in strategies between key drivers, such as airlines, travel sectors etc underpin the increasing popularity of the UAE as a tourist destination.
"Such synergies are executed in attracting new markets, by way of destination marketing by tourism authorities, coupled with introducing direct air connections to the those markets."
According to the 'Dubai Real Estate Market Overview', the emirate's retail sector also demonstrated a strong performed well during 2014's second quarter. Confidence in the market has improved significantly due to the announcement of the upcoming Mall of the World development. The new project reflects how important tourism spending has become to Dubai.
The retail and hotel industries are a big draw for visitors - both of which were named best in the world by TripAdvisor earlier this year. The emirate was able to beat the likes of New York and Paris to be crowned the globe's best destination for its shopping experience and came ahead of Cancun and Bangkok to win the title of best in the world for hotels.