Dubai's hotel apartment sector 'on the rise'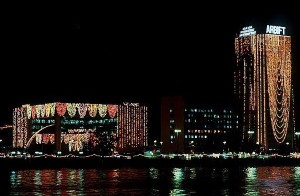 Dubai's hotel apartment sector is on the rise due to tourists driving diversification in accommodation offerings and a push from the government for more mid-range options, according to a new report from Colliers.
Last month, it was revealed that the emirate had attracted a record-breaking number of tourists during the first half of 2014. Between January and June, 5.8 million visitors stayed in Dubai, representing an increase of 2.3 per cent compared to last year.
Many of these travellers sought a different type of accommodation from traditional hotels, with many favouring hotel apartments.
This particular type of lodging currently accounts for 28 per cent of the available room stock in Dubai, allowing tourists the opportunity to take advantage of the unique experience hotel apartments offer - the comforts of home mixed with the trimmings of a hotel.
Hotel apartments - also known as serviced apartments - attract guests, especially families, looking for medium to long-term stays. Last year, visitors stayed for an average of 5.3 days, which is nearly double the figure for hotels, according to the research from Colliers.
In addition, the average occupancy rate for this type of accommodation hit 82 per cent in 2013, representing a year-on-year increase of 3.8 per cent compared to the previous year.
Filippo Sona, the head of hotels at the consultancy Colliers International's Dubai office, told The National: "Serviced apartments offer a risk mitigation strategy for large [real estate] companies to diversify into another asset class.
"[These] are flexible and generally more resilient to downturns, as they can easily shift their strategy from a hotel-like strategy targeting short-stay tourists to a residential-like strategy targeting long-stay guests."
Dubai's hotel apartments are a sound investment, as they can capitalise on the booming tourist industry in the emirate, leading to good returns for the owner. More visitors will be making their way to the emirate as the Department of Tourism and Commercial Marketing steps up its promotion efforts over the coming years, in order to reach its goal of attracting 20 million tourists to the emirate by 2020.