Dubai's hospitality sector 'set to boom'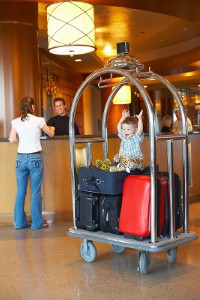 The ambitious growth strategy devised by Dubai for its hospitality sector is proving to be successful, with major international players showing interest in investing in this booming industry.
Dubai's Department of Tourism and Commercial Marketing (DTCM) has set itself a goal of attracting 20 million visitors per year by 2020, which means investing in the infrastructure of the hospitality sector has become a top priority for the government.
During 2013, more than 11 million guests stayed in the emirate's hotels, which represents an increase of over a million visitors compared to the previous year. This suggests it is well on its way to achieving the DTCM's target.
Fahad Al Gergawi, chief executive of Dubai FDI, commented: "The hospitality sector in Dubai is set to experience a massive boom, with more than 24,000 hotels and serviced apartments expected to enter the market in the next three years.
"Coupled by our successful bid to host Expo 2020, Dubai is becoming an increasingly attractive investment destination for foreign hospitality companies. It is important we continue to evaluate and evolve commercial activity in the sector in order to attract the most innovative companies to the emirate."
The emirate has become a place that is recognised for its strong hospitality sector, so much so that international management companies are being compelled to invest. With the help of the Dubai FDI, many firms are finding it easier to enter the market, or expand existing portfolios.
According to John Martin St Valery, founding partner of The Links Group, In the past, international hotel operators were forced to partner with local property owners in order to operate in Dubai. However, this is no longer the case, allowing companies such as The First Group to expand into serviced hotel apartments and hotels.
Rob Burns, chief operating officer for The First Group, added the Dubai FDI and DTCM have helped raise the profile of hotel management operations to be recognised as an in-demand activity that should be supported as it is fundamental in realising the government's dreams of growing the tourism and hospitality sector further.