Dubai's hospitality industry looks to the future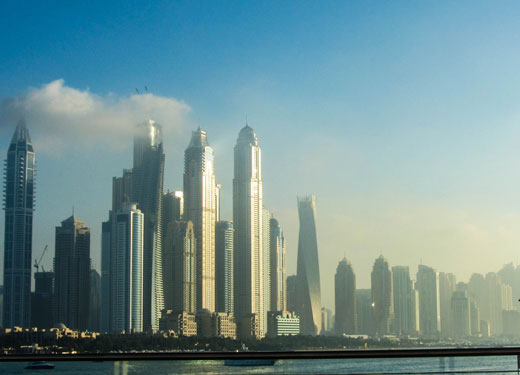 Dubai is looking to the future on the back of major projects valued at $43 billion, a fast-growing hotel market and rising visitor arrivals
Dubai's hospitality industry continues to move from strength to strength, with the value of its major projects, including new hotels, resorts and hotel apartments, reaching US$43 billion during the first quarter of the year, up 6.1 percent on Q1, 2017, according to a new report.
There are 356 active hospitality projects across the emirate and hotel inventory is growing quickly, with 17 new hospitality projects worth more than US$860 million delivered in Q1, 2018, according to 'The Dubai Hospitality Construction Overview' produced by BNC Network for construction industry mega event, The Big 5.
In addition, 25 hospitality projects with an estimated value of $2.2 billion, currently in tender stage, are expected to be awarded in the next few months, the report added.
"These project movements demonstrate a healthy growth in the hospitality related construction sector in 2018 and beyond," says Josine Heijmans, the portfolio director of The Big 5 at dmg events.
Expo 2020 Dubai, which runs from October 2020 to April 2021 is expected to deliver 25 million visitors, is proving a "magnificent growth driver for the hospitality and construction sectors", she adds.
Her views are supported by Alpen Capital, which in a recent report revealed the Middle East's first expo would deliver strong growth for the entire GCC hospitality sector over the next four years.
Recovering oil prices will also drive industry momentum, delivering a compound annual growth rate (CAGR) of 7.2 percent, from an estimated US$22.9 billion in 2017 to $32.5 billion in 2022, the report says.
Alpen notes that at country level, individual hospitality sector growth will range from six to 12 percent and Dubai and the UAE are expected to take the lead due to the expo effect.
Dubai's hotel room inventory stood at 111,317 across 700 establishments at the end of June 2018, up seven percent compared to the same time last year, according to the latest figures from Dubai Tourism. 
With an increase in demand for mid-market hotels operating in Dubai, the number of four-star properties has increased from 114 to 138, representing 25 percent of the rooms inventory.
Occupied room nights were also up year on year with a total of 14.97 million compared to 14.53 million during the same period in 2017, which Dubai Tourism says demonstrates the "ongoing diversity and popularity of Dubai's hospitality sector".
Although Dubai's room supply continues to grow at a rapid rate, the performance of its existing properties remains strong.
Hotels in Dubai recorded  a staggering 230 percent year-on-year growth in profit per room in June, according to the latest HotStats figures.
Revenue Per Available Room (RevPAR) increased six percent to $83.13, while the combined total of all revenues divided by the Total Available Rooms (TrevPar) increased 2.4 percent to $172.9 in June 2018, compared to same month last year. In addition, Total Gross Operating Profit (Goppar) increased 230 percent to $6.76 during the month.
Dubai's hospitality market has proven resilient to external factors, from geopolitics and currency fluctuations to global economic growth rates and supply growth. It's occupancy levels remain amongst the highest in the world at 78 percent, while Average Daily Rates (ADRs) remain attractive, reaching $134 in 2017.
Dubai Tourism reveals the stability of the market, with more than 100 five-star hotels in the emirate achieving occupancy rates of 85 percent across 36,000 rooms in January 2018.
Results at the other end of the spectrum are also encouraging, with occupancies at one- to three-star hotels and hotel apartments reaching 89 percent in January 2018.
Dubai's investment in major hospitality projects is part of its overall plan to welcome 20 million visitors by 2020, and in the long-term, claim the title of "most visited city in the world".
The emirate remains on track to reach its 2020 target, with Dubai Tourism's most recent statistics revealing Dubai welcomed a record 8.10 million international overnight tourists during the first six months of 2018, buoyed by growth in visitor numbers from its top three feeder markets – India, Saudi Arabia and the UK.
Russia, China and Western Europe also contributed to the growth of the emirate's tourism sector, which at the end of 2017 was worth AED109 billion ($29.68 billion) a year.
India delivered the highest number of international guests, once again crossing the one-million-mark over a six-month period and up three percent year-on-year.
KSA and the UK remained the second- and third-largest feeder markets respectively, while China ended the first half of 2018 in fourth place, delivering 453,000 tourists, up nine percent on H1, 2017.
But it was Russia that topped the growth charts with a stellar 74 percent increase over H1, 2017, delivering 405,000 visitors to jump five positions within the top 10 source markets.