Dubai's FDI campaign gains momentum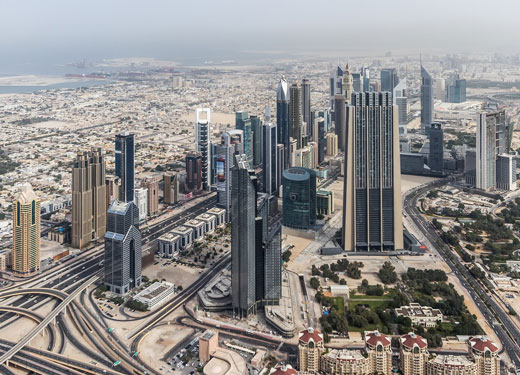 Dubai World Trade Centre (DWTC) slashes free zone fees as part of government's ongoing drive to strengthen emirate's position as the global investment destination of choice
Dubai's campaign to boost Foreign Direct Investment (FDI) is gaining momentum, with the Dubai World Trade Centre (DWTC) the latest entity to join the drive.
In a bid to spur business and encourage multi-sector growth, DWTC has announced a 70 percent reduction on licensing and incorporation fees within the DWTC Authority (DWTCA) – a free zone offering offshore licenses for businesses, and One Central – the mixed-use lifestyle development located in Dubai's central business district (CBD).
DWTC's highly competitive offer supports the twin objectives of increasing FDI and accelerating private sector contribution to Dubai's GDP, in line with directives outlined by His Highness Sheikh Mohammed bin Rashid Al Maktoum, Vice President and Prime Minister of the UAE and Ruler of Dubai, which aim to reduce the cost of doing business in Dubai and cement its position as the world's most desirable investment destination.
This complements the series of wide-ranging economic stimulus policies and regulations recently approved by His Highness Sheikh Hamdan bin Mohammed bin Rashid Al Maktoum, Crown Prince of Dubai and Chairman of the Executive Council.
Initiatives include reducing the market fee imposed on businesses from 5 percent to 2.5 percent and allowing 100 percent foreign ownership of businesses based outside of free zones.
"The UAE's bold economic initiatives demonstrate the strength and resilience of its economy, which is agile, open and inclusive," explained His Excellency Helal Saeed Almarri, Director General, DWTCA and Dubai Tourism and Commerce Marketing (DTCM).
"DWTC's commercial propositions are designed to support the government's mandate on reducing fees to scale down the cost of doing business for the private sector and to offer a viable ecosystem that supports sustainable, long-term success, as well as attracts regional and global headquarters to consolidate and relocate their operations at considerable scale to Dubai."
He added: "The significant reductions in licensing and incorporation fees further support The Executive Council of Dubai's recently announced wide-ranging policy measures, and will collectively increase the competitiveness of, and the ease of doing business within the DWTCA free zone."
DWTCA's revised fees include a 50-70 percent reduction on FZ registration and licensing fees, with a 40-50 percent reduction on immigration-related service fees, depending on the scale of business operation.
This will dramatically lower the fixed and ongoing costs of doing business for new and existing companies, consequently enabling accelerated ROI for the FZ entities.
DWTCA believes the initiative will encourage many companies to relocate their headquarters to Dubai, attracting more talent to live and work in the emirate – a key goal outlined in UAE Vision 2021, which calls for the development of a competitive, knowledge-based economy.
The UAE is currently ranked 17 out of 137 countries globally in the World Economic Forum's Global Competitiveness Index, rising seven places from 24th in 2012-13. It consistently scores highly across the pillars of institutions, infrastructure, goods market efficiency, labour market efficiency and business sophistication and remains the Arab world's most competitive nation.
"The commercial incentives deployed by DWTCA present an incredibly compelling opportunity for businesses to accelerate their growth trajectory and their geographic reach, combined with the ability to leverage the strength of our long-standing international reputation as a business networking hub driving multi-sector trade and innovation," said Almarri.
"We are committed to expanding and enhancing our platform to nurture creative thinking and knowledge-sharing across businesses as we increase the attractiveness of Dubai as the global business destination of choice for the international investment community and global talent."
One beneficiary of Dubai's FDI incentives is the commercial real estate sector, according to the latest report by real estate analyst JLL.
"These new government announcements have the potential to directly increase investment and office occupancy across the emirate. The potential surge in foreign investment, particularly from businesses operating in the non-oil sector, could ultimately lead to a boost in demand for quality commercial space," explained Craig Plumb, Head of Research, JLL MENA.
"The availability of (office) space increased across the CBD over the past year. This is favourable to tenants, providing them with an increased choice of potential premises in a market where demand for quality space remains high. Demand is likely to persist as a result of the relaxation of foreign ownership requirements."
The government's strategy to attract foreign investment was further demonstrated by Dubai retaining its position as the most transparent real estate market in the region, according to JLL's recently released Global Real Estate Transparency Index for 2018.
The Dubai Land Department (DLD) continues to focus on attracting more investment through increased transparency, in line with a mission to establish Dubai as one of the world's premier real estate destinations.
"The increased transparency, coupled with new initiatives to attract further foreign investment paint a positive outlook for Dubai's real estate sector overall," concluded Plumb.