Dubai's cruise sector makes waves with Crystal flagship announcement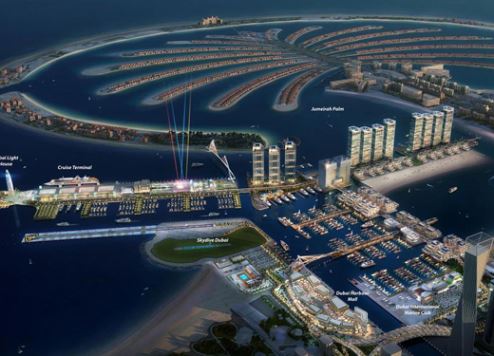 Dubai's status as a world-leading cruise hub is gaining momentum with luxury operator Crystal Cruises choosing the emirate as the location for the company's flagship liner to make its maiden voyage in the region following an extensive refurbishment.
Crystal Symphony's month-long dry dock redesign is the most extensive in the ship's history, according to the company, which said its decision to make Dubai the location for the regional debut of the liner's new look a reflection of the city's global reputation as a top cruise destination.
Dubai now serves more than 20 world-class cruise lines, including Crystal Cruises.
Hamad Bin Mejren, senior vice president, Dubai Tourism, said Dubai's continued investment in its cruise infrastructure was "paying dividends".
"We are seeing a steady increase in visitors opting to commence their international cruise itinerary in Dubai, and for pre-, or post-cruise stays, in the city," he added.
More than 625,000 cruise tourists visited Dubai during the 2016/2017 cruise season, up 15 percent when compared to the 2015/2016 season.
Newcomers this year included Thomson Cruises, the first UK-based cruise line to home port in the region. Dubai also witnessed inaugural visits from TUI's Mein Schiff 1, Norwegian Cruise Line's Norwegian Star and MSC's MSC Fantasia.
The growth trend is set to continue in the 2017-2018 season, which started on October 25, with 155 cruise calls from more than 20 world-renowned cruise lines scheduled. P&O Cruises will be home porting in Dubai for the first time this year.
Jamal Humaid Al Falasi, director of Dubai Cruise Tourism, said: "Bolstered by our recent success and our upcoming partnerships over the coming seasons, we are confident we will achieve our strategic goal of welcoming 1 million cruise tourists to Dubai by 2020/2021 cruise season."
Dubai continues to invest in cruise infrastructure. Dubai Harbour, a new destination being constructed in the Mina Seyahi area between Palm Jumeirah and Jumeirah Beach Residence, will feature two new cruise terminals, Dubai government-owned developer Meraas recently revealed.
Plans to build a first terminal were unveiled in January this year but the capacity is now set to double enabling the two terminals to accommodate 1.2 million passengers annually.