Dubai's blank canvas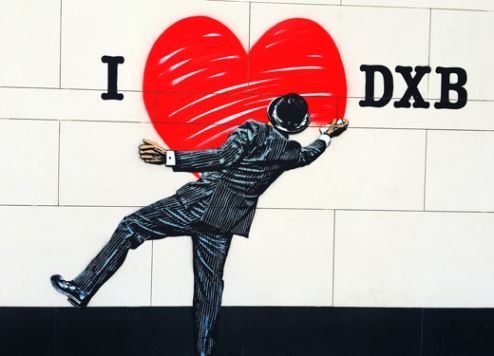 How this dynamic city is being slowly transformed into a giant, open-air museum and art space
In 2014, Dubai's Ruler, Sheikh Mohammed Bin Rashid Al Maktoum, unveiled one of 'Brand Dubai's' most ambitious projects to date – to beautify the entire city through innovative art projects.
The #DubaiSpeakstoYou initiative aims to bring together local artists to make their creative mark on the city.
At the time of the launch, Sheikh Mohammed told artists: "We are giving you the opportunity to make your city into an open-air museum. Dubai is your canvas.
"We celebrate innovation, art and beauty. Your talent and creativity will invite visitors, citizens and residents to explore the many facets of Dubai's rich diversity and pioneering spirit."
Brand Dubai, which is the creative arm of the Government of Dubai Media Office, has since worked with local developers including to ensure prime locations across the city have been available for artists to transform into works of art.
Just last month, the entity signed a Memorandum of Understanding (MoU) to collaborate on city beautification projects, with the first project already underway on the East Crescent of The Palm Jumeirah.
Here, the pillars of the bridge have been decorated to resemble tree trunks, with the underside of the bridge featuring installations of dense foliage.
"The project forms part of our effort to install artworks that inspire innovation and encourage people to look at things in a new creative way," explained project manager Shaima Al Suwaidi.
"Brand Dubai is keen to work with both public and private sector organisations as well as artists on projects that enhance the cultural and artistic environment of the city."
Last year Brand Dubai signed a similar MoU with a developer, which saw an art project unveiled at the Samari Retail community. Here, a wall painting combines traditional Emirati art with modern creative styles.
As Dubai looks to establish itself as a global hub for art and design, Sheikh Mohammed has unveiled several wide-ranging projects that collectively look to fast-track the realisation of this ambition.
The Dubai Ruler recently approved plans to create the Dubai Street Museum – a new public art project that seeks to highlight Dubai's unique identity, values and aspirations. 
Spearheaded once again by Brand Dubai, in partnership with Dubai Municipality, the museum will see international and local artists collaborate to create distinctive public artworks across the emirate.
These works of art will be rolled out over the next five years in select areas of Dubai, with a view to preserving the emirate's heritage.
One of the locations earmarked is mountainous Hatta, with artworks aligned to the historical and environmental attributes of this area of Dubai.
This will support the recently unveiled development plan for Hatta, which aims to transform the area into a centre for culture and adventure tourism.
The Middle East art scene was once thriving and globally revered. Dubai aims to spearhead its comeback and there are sure signs this planned revival is rapidly progressing.
The Dubai Design & Fashion Council (DDFC) forecasts that by 2019, the UAE's design industry will be worth US$36 billion, up from $27.6 billion in 2014.
Galleries have opened across Dubai and the once industrial Al Quoz estate has become the focal point, popular with artists and art enthusiasts alike.
Dubai has also created a purpose-built development dedicated to all things creative – Dubai Design District (d3), while the world-famous Christie's auction house says it has sold more than $300 million worth of art, jewellery and watches in the Middle East over the past 10 years.
All forms of art are taking centre stage in the city, from traditional Islamic art to modern forms, such as street art and murals, which are now common.
Dubai's events calendar is packed with art-focused exhibitions, programmes and events too, all of which act as platforms for existing and emerging GCC artists. Two of the biggest are Art Dubai and Design Days Dubai.
Art Dubai has established a reputation as a leading international art fair and the preeminent platform for art from the Middle East and North Africa. The 12th edition of the event will take place from March 21-24, 2018 at d3.
Design Days Dubai is the leading fair in the Middle East and South Asia dedicated to collectible and limited edition furniture and design objects. The work of established and up-an-coming designers from across the globe is showcased at the event while the non-commercial programme includes education, workshops, installations and live performances.
Design Days Dubai also takes place every March.