Dubai's Atlantis resort stars in Animal Planet's 'TANKED'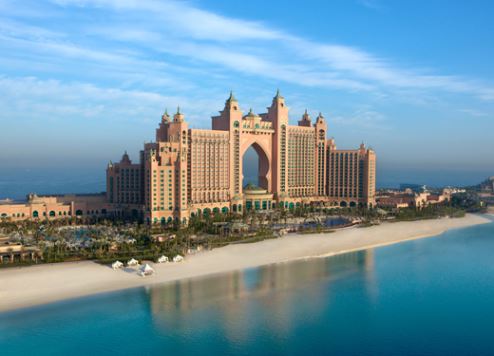 Dubai's larger-than-life resort, Atlantis, The Palm, has played a starring role in the Animal Planet hit TV series 'TANKED'.
The hotel and leisure destination, located on The Palm Jumeirah, featured an entire episode dedicated to its marine life, with the luxury resort home to one of the top 10 largest aquariums in the world.
TANKED features co-owners of Acrylic Tank Manufacturing, Wayde King and Brett Raymer, who specialise in designing and building over-the-top aquariums.
In the Atlantis-dedicated episode, which aired on Friday, February 24, the duo discovered the Ambassador Lagoon, met the sea lions at Sea Lion Point, peeked inside The Lost Chambers Aquarium, and took on the Leap of Faith – the iconic nine-storey waterslide that is the centrepiece of Aquaventure Waterpark.
In honour of the Atlantis episode, the luxury resort has shared some fun facts about the marine adventures and facilities located on-property so that viewers and fans of the show are inspired to check them out during their next trip to Dubai:
The Ambassador Lagoon and The Lost Chambers Aquarium combined are home to more than 65,000 marine animals including baby stingrays, moon jellies, piranha, lionfish, white tip reef sharks, grey reef sharks, zebra sharks, arapaima, and many more;
The Ambassador Lagoon is an 11-million-litre marine habitat and one of the top 10 largest aquariums in the world;
It takes a team of 45 people to ensure the water is successfully filtered around the clock;
Black-tip reef sharks are the most popular breed of shark in The Ambassador Lagoon;
There are 21 exhibits in The Lost Chambers Aquarium, which welcomes approximately 3,000 guests every week;
Daily feedings in the lagoons and exhibits are supervised by Atlantis 'Seakeepers' offering guests the chance to hand feed their favourite fish. The most popular is piranha feeding; 
The piranha is one the oldest living species and has been on earth for 1.3 million years;
Thousands of moon jellyfish are bred each year in the nursery of The Lost Chambers Aquarium, with many being released back into the Arabian Gulf;
Depending on the type of the sharks, some have live births while some lay eggs. The eggs are called mermaid's purses due to the way they look;
The resort's iconic Underwater Suites give guests a luxurious point of view into the vast aquariums as the guestroom windows look directly into the Ambassador Lagoon and stretch over three floors.