Dubai's 2016 Kite Festival draws a crowd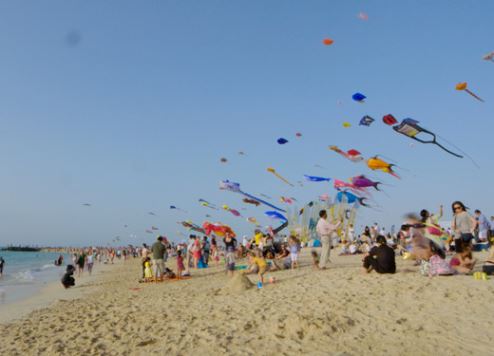 Thousands of residents and tourists flocked to Dubai's Jumeirah Beach last week to enjoy the Dubai International Kite Fest 2016.
The magnificent showcase of kites and kite flyers, in an event designed to demonstrate the outdoor spirit of Dubai, saw kites big and small, all colourful and brandishing multiples patterns, take to the skies behind Sunset Mall.
The free-to-attend family-friendly event included an action-packed programme including public kite flying, night kite flying, show kite flying and live entertainment, as well as kite buggy rides.
For the first time, the Dubai International Kite Fest, now in its second year, was designed to run as a totally 'green' event that reflected the sustainable development of Dubai, promoting local culture, environmental awareness and respect for natural resources.
The festival also launched the inaugural Dubai International Sport Kite Flying event, in association with World Sport Kite Championships (WSKC) and governed by the competition's IRBC rules.
This event aims to promote the sport across the GCC, and laying the foundations for the World Kite Flying competition to be staged in Dubai later this year.
Other highlights included a Manja Kite Fight, a popular sport in Asian and Western countries that tests the skills, dexterity and presence of mind of the flyer.
The name is derived from the thread called Manja, which is used to fly the kites and is coloured, gummed and coated with abrasives. The winner is the last one up in the air as the flyers try to cut strings using various techniques.
Expert kite flyers also gave a mesmerising synchronised kite flying display.
The Dubai International Kite Fest is one of many new events designed to attract more visitors to Dubai, particularly families.
The government's ultimate goal is make Dubai the world's number one family holiday destination.