Dubai RTA to open final Metro stations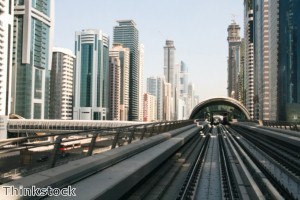 Dubai's Roads and Transport Authority (RTA) is to open the emirate's final two Metro stations this weekend.
The hubs, located at the end of the Green Line, will become operational on Saturday March 1st. This will mark the completion of the organisation's network improvement programme.
Each station are capable of holding up to 11,000 passengers per direction, per hour. This is due to them extending 132m in length and 29m in width. The sites have been built on two levels, with lifts and stairs for accessibility.
The new buildings are also set to be manned by a total of 16 employees. Additionally, security personnel will be station at the sites to ensure the safety of passengers. Emergency services have also conducted reconnaissance operations to ensure they are fully aware of the layout of the sites.
The hubs at Al Jadaf and Creek will serve existing projects, alongside locations such as the Culture Village and Sama Al Jadaf which are still under construction. Furthermore, they will also link up to the Dubai Festival City via a marine transfer service.
Matter Al Tayer, chairman and executive director of the RTA, commented: 'Operating these two stations will contribute significantly to expediting the development tempo of the neighbourhood, and accordingly the ridership will pick up gradually as per the foreseeable inputs.'
He added the the number of people expected to use the Al Jadaf station would be 2,100 riders per day, while the Creek station is anticipated to welcome 1,400 users. Additionally, it is thought these figures could double once the new construction projects are completed.
The news comes as the RTA released figures showing the number of passengers using the Metro system each year has almost doubled since 2011. Results found that 138 million people used the green and red lines in 2013.
This comes on the back of reports that the use of public transport in Dubai rose by 27 per cent in the past two years, increasing from 346.5 million in 2011 to 440.67 million in 2013. This comprises of passengers travelling on the buses, Metro, marine transport services and taxis.