Dubai RTA to launch new tenders for tram network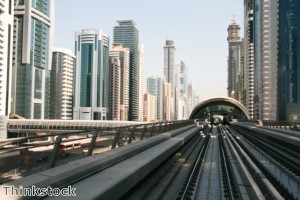 Dubai's Roads and Transport Authority (RTA) has announced it will launch two new tenders for its tram network.
Contracts for the second phase of the AED 3.7 billion (£603 million) scheme will be released in November 2015, exactly a year after the new service will begin operating. It is claimed the work will add a further 5km of track to the existing network by 2020.
According to Arabian Business, when the new tram system starts running later this year, officials state the vehicles will be used by 27,000 passengers each day. Additionally, the number of people taking advantage of the network is anticipated to rise to 66,000 over the next six years.
During the initial phase of operation, eight trams will run, which are expected to accommodate 3,500 people every hour in both directions. The scheme was intended to be completed in 2011 but has faced delays as a result of the global financial crash.
Transport bosses stated the first part of the project is now well on-course for completion, with 66 per cent of the 11 stations and 99 per cent of the line already finished. Meanwhile, the depot is over halfway through the building process. 
Part one of the scheme is expected to cost around AED 4 billion and will stretch 10.6km. Once phase two is completed, the third and final stage of the programme will run along Jumeirah Beach Road and to 2nd December Street by 2025. 
The new tram network will be the first of its kind in the world to operate with ground power feeding the line, therefore eliminating the need for overhead lines. Once finished, 17 new stations will be open to the public.
When fully operational, the system will link up to the Dubai Metro at three stations on Sheikh Zayed Road, while also tying up with the monorail at Palm Jumeirah. The project will be operated by UK facilities manager Serco, in a AED 105 million agreement with the RTA.