Dubai reports bumper tourism results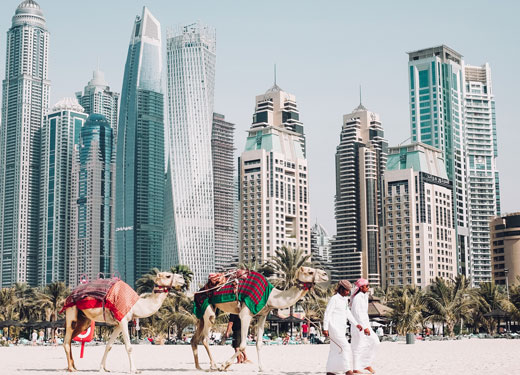 Dubai welcomed 8.36 million international overnight visitors in the first six months of 2019, up 3% compared to the same period in 2018, according to the latest data issued by Dubai Tourism.
India retained its ranking as Dubai's most important source market, with 997,000 visitors in the first half of 2019. The fact that 24% of all Indian visitors were families during this period, up from 14% a year earlier, was testament to Dubai's efforts to promote itself as a family-friendly destination, according to Dubai Tourism.
Saudi Arabia ranked second overall, with 755,000 visitors during H1, up two percent year on year (YoY) and five percent during Eid Al Adha.
The UK came in third, with 586,000 visitors, followed by China with 501,000 visitors, and Oman, which rounded out the top five with 499,000, up an impressive 28% compared to H1, 2018.
The average hotel occupancy rate across the city reached 76%, while occupied room nights totalled 15.71 million, up 5% compared to the same period in 2018.
Dubai's hotel room inventory stood at 118,345 at the end of June 2019, representing a 6% year-on-year increase.
Luxury five-star and four-star hotels commanded 34 and 25 percent of the emirate's total inventory, respectively. Meanwhile, properties in the one to three-star categories represented a share of 20%. Increasing demand for diversified accommodation options was met with a combined 21% of hotel apartment establishments across the deluxe/superior and standard categories.
Helal Saeed Almarri, Director General of Dubai Tourism, commented: "Tourism is one of the cornerstones of Dubai's diversified economic growth, and we measure success based on our ability to aggressively advance towards our goal to be the number one most visited and most preferred city as envisioned by His Highness Sheikh Mohammed Bin Rashid Al Maktoum, Vice-President and Prime Minister of the UAE and Ruler of Dubai.
"The consequent rise in value creation opportunities, and more inclusive sector participation are core priorities, as we equally strive to sustainably grow GDP contribution. Our first half results are a particularly encouraging reflection of our progress towards this ambition and underline the effectiveness of our diversified market outreach with holistic 'awareness to booking' cycle content amplification and audience delivery, through a deeply networked ecosystem of global partners, industry stakeholders and government enablers."
DUBAI'S TOP 10 VISITOR SOURCE MARKETS H1, 2019
India (997,000)
Saudi Arabia (755,000)
United Kingdom (586,000)
China (501,000)
Oman (499,000)
Russia (375,000)
United States (329,000)
Germany (316,000)
Pakistan (253,000)
Philippines (216,000)