Dubai recognised as 'one of the world's most dynamic cities'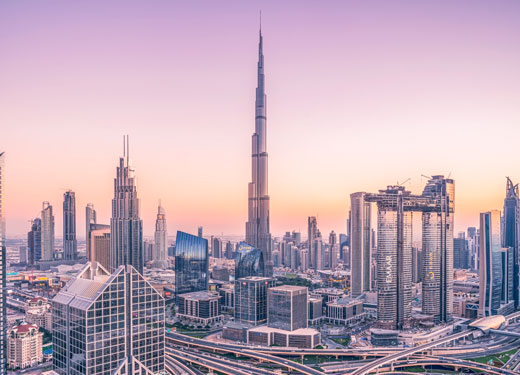 Dubai has been named among the world's most dynamic cities in a new report published by JLL.
Ranking 14th in the firm's 2020 City Momentum Index, Dubai was praised for its efforts to diversify its economy and promote sustainable development.
The report singled out Dubai's property investment market as being particularly dynamic.
Published annually, the City Momentum Index ranks cities based on their ability to attract top talent, their focus on innovation and approach to urban planning.
"Dubai (14th) appears in the Global Top 20 for the first time since 2017. The Emirate continues to build the necessary critical mass to be the major business hub in the Middle East," the report states.
"Underpinning its appeal is strong demographics, with more than half of the population aged 20-40 (the second highest proportion globally)… Momentum is expected to be fuelled further in the lead-up to Expo 2020."
JLL singled out Dubai's keen focus on sustainability, noting that among the top 20 cities in the list – which also included the likes of Shanghai, Riyadh and Delhi – the emirate had the most ambitious goals in this area.
"Of the Top 20 cities, Dubai has among the most ambitious sustainability goals. Under the UAE Sustainability Initiative, the city aims to achieve 30% energy and water use reduction by 2030 and 75% clean energy by 2050. The Dubai Electricity and Water Authority's 'Green Dubai' initiative is also promoting more sustainable energy use," the report noted.
"Dubai [has] ambitious infrastructure plans. Dubai's infrastructure impetus is in part being driven by Expo 2020 … Dubai is seen as a global leader in the development of smart-city technologies. Its 'Smart Dubai 2021' strategy sets out its digital transformation goals in areas including Smart Mobility, Smart Living and Smart Governance."
Commenting on the inclusion of Dubai and Riyadh in the list, Thierry Delvaux, CEO of JLL MEA, said: "It is great to see the MEA region represented in the top 20 ranking of the Momentum Index, driven by government initiatives. These cities are leading the way by successfully addressing infrastructure needs to further enhance mobility, while creating thriving, inclusive, safe and affordable communities. Moving forward, we will see real estate play a more important role in smart-city futures, driving greater energy efficiency, and promoting sustainable, scalable and smart developments."