Dubai real estate transactions reach US$57.3bn in 2017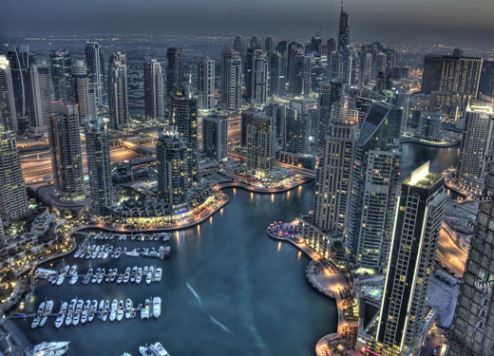 Emirate's property sector reports strongest performance in three years
Dubai's property sector went from strength to strength in 2017, with the total number of real estate transactions reaching 69,000 – a 14% rise compared to 2016 – for a total value of AED285 billion (US$57.3 billion), according to new data published by the Dubai Land Department (DLD).
Commenting on DLD's Annual Transactions Report, which summarises the market activity over the past year, Sultan Butti bin Mejren, Director General of DLD, said: "The figures disclosed in the report for total transactions including sales, mortgages and others, confirm the current strength of the Dubai real estate market, in particular when compared against the past two years.
"The 2017 report sends reassuring messages of renewed cycles of growth in the coming years, especially when we take into account the modern-day infrastructure that exists in Dubai. The numbers and figures contained in the report confirm the strength of the Dubai real estate market and its ability to grow from year to year. Among the positive signs of the report is the lead UAE nationals have in investments, as well as the diversity of the investor base which reflects the attractiveness of the Dubai real estate market to global investors."
The total value of real estate transactions in 2017 was six percent up on 2016 (AED268.7bn) and four percent up on 2015 (AED275.8bn).
"Looking at the details of the results from 2017, the sales of land, buildings and units in the Dubai real estate market totalled AED 114 billion through 49,000 transactions, while mortgages for the same three categories reached AED 138.5 billion through 15,700 transactions," explained Bin Mejren. "There were approximately 4,000 other transactions valued at approximately AED 33.3 billion, where the total turnover for the year 2017 was AED 285.562 billion from 69,000 transactions."
In regard to buyer demographics, nearly 23,000 foreign investors made approximately 30,000 transactions worth around AED 56 billion in 2017.
Emirati investors continued to lead the list of nationalities investing in the Dubai real estate market, where the value of their investments amounted to AED25.307 billion. Indian investors ranked second with AED 15.6 billion-worth of investments. Saudi nationals came in third place with investments exceeding AED7 billion, followed by British and Pakistanis whose investments amounted to AED6bn and AED5bn, respectively.
Other active investors include Chinese, Jordanians, Egyptians and Canadians.
More than 9,790 Gulf nationals made 14,381 transactions worth more than AED 37 billion, while close to 7,000 Arab investors closed 8,644 real estate transactions worth over AED 14 billion.
The data also demonstrated that the number of female investors was rising, with 11,773 women entering the market and making a total of 14,316 transactions worth over AED 27 billion.
The report also reveals the top 10 precincts in terms of transactions, with Burj Khalifa taking first place in terms of value with 2,008 transactions worth AED7.368 billion. Business Bay ranked second with 3,763 transactions worth AED7.115 billion, while Dubai Marina took third place with 3,300 transactions worth nearly AED7 billion. Hadaeq Sheikh Mohammed bin Rashid came in fourth place with 1,948 transactions worth AED5.672 billion and Al Barsha South Fourth ranked fifth through 3,138 transactions worth around AED4 billion. The final five places went to Jabal Ali First with 2,750 transactions worth AED2.487 billion, Al Yufrah 2 with 1,827 transactions worth AED2.389 billion, Al Yelayiss 2 with 1,883 transactions worth AED2.268 billion, Madinat Al Mataar with 2,365 transactions worth AED2.137 billion, and Al Warsan First with 1,831 transactions worth AED1.871 billion, respectively.
Bin Mejren concluded: "Such results would not have been possible without our firm commitment to the vision of our wise leadership, and our keenness to achieve the highest levels of excellence in our innovative services that will reassure all segments of investors, allowing Dubai to remain an attractive investment environment for investors seeking a safe return on investment. That is clearly seen through the base of investors of more than 200 nationalities from all continents of the world."