Dubai real estate contributes to GDP growth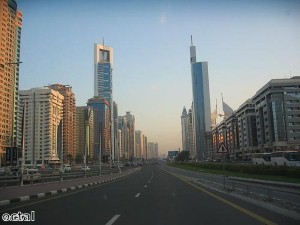 Dubai's strong property sector has helped to drive growth in the city's gross domestic product (GDP) figures.
A new report published by the Dubai Economic Council (DEC) showed the emirate's economy expanded by 4.1 per cent in the first quarter of 2013 when compared with the corresponding period in 2012.
The group also predicts an increase of 4.7 per cent in the second quarter - thanks mainly to the impressive performance of the real estate, financial, construction, manufacturing and transportation sectors.
According to the figures provided by the DEC, the average price of residential apartments per square metre rose by 25 per cent year-on-year in the first quarter of 2013.
The report stated: 'Traders from Pakistani, Indian, British, Iranian, UAE and Russian nationalities have increased the value of sold apartments in the first quarter 2013 compared to the corresponding quarter [in] 2012.'
This ties in with recent findings published by the Dubai Land Department, which highlighted a 30 per cent upturn in property transactions in the first six months of the year. Indeed, 30,469 deals were completed by Dubai property investors during this period.
In addition to this, the DEC report revealed the hospitality industry continued to go from strength to strength, with hotel occupancy rates rising to 90 per cent - up from 85 per cent last year.
There were 401 hotels operating throughout the emirate in the first quarter of 2013 and these managed to attract 2.8 million guests over the course of the three months.
Leaders at the DEC believe visitor numbers were swelled by a series of high-profile events, most notably the Dubai Shopping Festival. Some 4.66 million people travelled into the city when the retail extravaganza was taking place, with Russia, Saudi Arabia, India and the UK providing the bulk of these tourists.
With investors continuing to pour money into Dubai's real estate market, it would certainly come as no surprise whatsoever if the sheikhdom's GDP figures for the third and fourth quarters of this year grow even further.