Dubai ready to host two special food events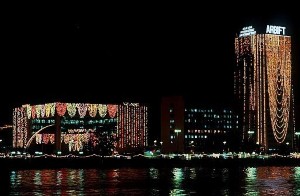 Food tourism is a big deal for many people and there may be few better destinations in the world than Dubai, which is due to host two special events in the coming weeks.
Between February 21st and March 15th, two significant functions are being held in the city. First comes the Dubai Food Carnival, while the second date for the diary is the Big Grill, reports the Khaleej Times.
Each of these events has been designed to promote Dubai as a foodie destination, where visitors can be assured of some great grub and delicious tastes that showcase the very best of Middle Eastern cuisine.
All manner of food and drink will be available at the festival, from street food to the work of Michelin-starred chefs. Cuisines from more than 200 countries around the world will be in evidence, so anyone attending is guaranteed a great meal.
Helal Saeed Almarri, director general of Dubai Festivals and Retail Establishment, said: 'Dubai's status as a culinary destination is one that has risen considerably in recent years and the creation of a city-wide food festival will contribute to enhancing this further.'
One of the great things about spending time in Dubai is the chance to tuck into some local food and the two events in the early part of 2014 are set to cement this reputation.
'The packed festival programme is designed to showcase the wealth of flavours and cuisines on offer in Dubai and will promote the diversity, creativity and multi-cultural nature of Dubai's culinary offering,' Mr Almarri added.
More than 5,300 places to eat are available in Dubai and the festivals will run over 23 days, which include four weekends, giving visitors plenty of opportunity to find the food they are most interested in.
As well as the chance to buy various foods, people who attend will be able to take part in tastings, offers and demonstrations.